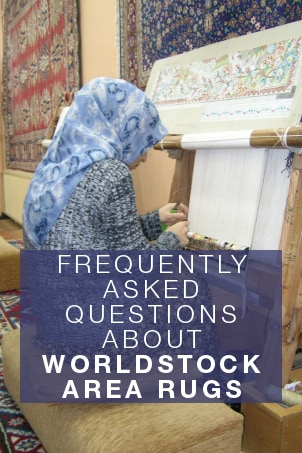 SHOP ALL WORLDSTOCK AREA RUGS >>
An area rug can change the look of a room, and the more unusual and detailed a rug is, the more impact it will have. The Worldstock area rugs from our Worldstock Fair Trade store are created by artisans from across the globe. These rugs are unique and beautiful and come from some of the oldest rug-making traditions in the world. Here are the answers to the most frequently asked questions about Worldstock rugs.
Worldstock Rug Questions:

Are Worldstock rugs handmade?
Worldstock strives to carry handcrafted products from underprivileged artisans, so the majority of the rugs you'll find on Worldstock are handmade. The artisans use various techniques for making their rugs, including traditional methods of hand-weaving.

Where do Worldstock rugs come from?
The area rugs featured in our Worldstock store come from various regions. Persian rugs from Iran are particularly popular because of their quality craftsmanship and reputation for luxurious. Similar rugs come from India and Pakistan. Worldstock also carries rugs from elsewhere in the world, including Mexico, China, Nepal, and other countries where rugs are traditionally made.

What is fair trade, and how much money goes back to the rug makers?
The fair-trade movement is designed to bring income and education to craftsmen and women in underdeveloped countries. It is based on the ideas of sustainability within a global market. The artisans making Worldstock area rugs receive on average 60 to 70 percent of the sale price of each rug.

Where can I find out about the artisans who make the rugs?
Each of the artisan-made products is accompanied by the artisan's story, informing you about who made the rug and his or her history as an artisan. These stories can be found on each Worldstock product page below the product description under the section titled "Story Behind the Art."

What are the best fabrics for area rugs?
Rugs made with natural materials, such as wool, cotton, or silk, are typically the best. Natural materials are much more durable than synthetic fibers and are also softer and more luxurious. Most rug artisans use traditional fibers, like cotton, wool, and silk, in their rug making to ensure the most authentic, high-quality rugs.

What is the difference between hand-hooked, hand-tufted, and hand-knotted rugs?
Each of these techniques is a form of hand-weaving, but there are differences between the three. Hand-hooked rugs are made by pulling tufts of material through a grid and gluing them in place. A backing is then placed on the rug to keep the fabrics in place. Hand-tufted is similar, but the tops of the fibers are sheered to break up the loop. Hand-knotted pieces are the highest quality rugs with the fibers knotted by hand onto the grid rather than glued.

Shop One-of-a-Kind Worldstock Rugs
Shop Worldstock Accent Rugs
Shop All Worldstock Rugs
See All Guides
Read More Home Guides
Learn More about Area Rugs