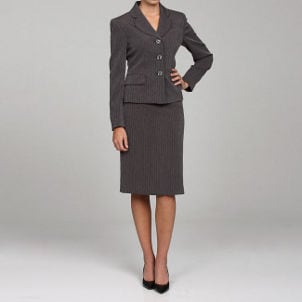 You need stylish women's suits for a variety of different occasions, but you may have a few concerns about the blouses to wear with your dress suits, matching separates from ladies' suits and looking professional or casual in your women's pant suits. Fortunately, this guide provides answers to your frequently asked questions about women's suits and tips on buying designer suits that will fit your style and your various activities.
Buying Women's Suits:

When I wear a collared shirt with my suit, should my collar be in or out?
There's actually no right or wrong way to wear a collared shirt with women's business suits. You can tuck the collar of your blouse inside skirt suits for a chic look or let the shirt collar rest on your suit's collar for a sporty look. Try both ways in front of a mirror and choose which one you feel flatters your face the most and looks best with different suits. Just make sure you commit to one or the other; a collar that's halfway in and halfway out of a black suit will look disheveled.

Can I match separates to make a suit?
Shopping for suit separates can be the perfect way to create the suit that's just right for you. If you have trouble finding women's pant suits that fit on the top and the bottom, you can buy suit separates in two different sizes. If the suit separates are from the same brand, you can choose a matching skirt or pants and a jacket. You can create skirt suits with coordinating styles, too, like a black-and-white houndstooth jacket with a black pencil skirt.

Can I separate the matching suit pieces?
You'll get a lot more mileage out of your business suits when you split the top and bottom. You can even separate your suit to go from day to evening or you can let women's business suits be the basis of a mini-wardrobe when you go on a business trip. Wear your black suit together on Monday, the skirt with a different blouse on Tuesday and the jacket with different pants on Wednesday. Just remember to have the jacket and bottoms of your dress suits dry cleaned at the same time so the pieces will wear at the same rate.

Buy Women's Suits
Back to Guides Directory