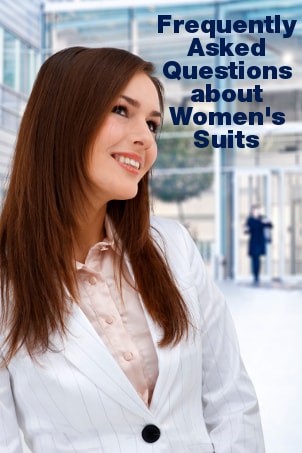 Suits can be the hardest working pieces of clothing in your closet, but if you have questions about wearing them, you may not get all the mileage out of them that you could. These answers to frequently asked questions about wearing women's suits will help you look professional and put-together, no matter what the occasion is.
Wearing Women's Suits:

Can I match separates to make a suit?
Shopping for suit separates can be the perfect way to create the outfit that's just right for you. If you have trouble finding a suit that fits on the top and the bottom, you can buy separates in two different sizes. If the suit separates are from the same brand, you can may be able to choose a matching skirt or pants and jacket. Or you can create a suit with coordinating styles, like a black-and-white hounds-tooth jacket with a black pencil skirt.

Can I separate the matching suit pieces?
Of course! You'll get a lot more mileage out of your suit when you split apart the top and bottom. You can even separate your suit to go from day to evening, or you can let it be the basis of a mini-wardrobe when you go on a business trip. Wear the suit together on Monday, the skirt with a different blouse on Tuesday, and the jacket with different pants on Wednesday. Just remember to have the jacket and bottoms dry cleaned at the same time, so the pieces will wear at the same.

When I wear a collared shirt with my suit, should my collar be in or out?
There's actually no right or wrong way. You can tuck the collar of your blouse inside your suit for a chic look or let the shirt collar rest on your suit's collar for a sporty look. Try both ways in front of a mirror and choose which one you feel flatters your face the most. Just make sure you commit to one or the other; a collar that's halfway in and halfway out will look disheveled.

What accessories should I wear with my suit?
Jewelry and accessories are the finishing touches to any outfit, and your suits need accessories as well. Just take the formality of the occasion into consideration, and add more sparkle as the more the occasion gets fancier. With a casual weekend suit, wear understated earrings and a chain necklace. At the office, accent your suit with a silk scarf tied around your neck or a single-strand pearl necklace and pearl stud earrings. Add a brooch to the lapel and dangly earrings for an evening out. At a special event like a wedding, wear a statement necklace with a dress suit.
What Do You Want to Do Next?

Shop Pant Suits
Shop Skirt Suits
Shop All Women's Suits
See All Guides
Read More Clothing & Shoe Guides
Learn More about Women's Clothing