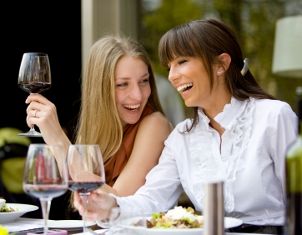 Whether you're shopping for new women's clothing or simply looking for ways to look fresh in the women's jeans and women's shirts you already have, you probably have a few concerns about finding women's clothes that fit your body shape, flatter your figure and always look good on. This guide will answer frequently asked questions about women's clothing and provide you with the tips you need to dress well every day.
Buying Women's Clothing:

Some women look great no matter what they wear. What's the secret?
Looking great in your clothes has nothing to do with your clothing size, how much you spend or where you shop. Being stylish only requires these easy steps. First, choose women's clothes that highlight your assets. If you have strong biceps, show them off with cap-sleeved dresses. If you have long legs, choose skirts that let them take center stage. Next, look for ladies' clothing with details that distract from your least favorite things. If you have a round tummy, choose women's blouses that skim loosely over it so no one will even notice it. If flabby upper arms are your nemesis, choose women's shirts and dresses with 3/4-length sleeves that cover them up and show off your narrow wrists. Most important, have confidence and good posture. You can make almost any ladies' clothing work when you walk tall.

How do I know which clothes will suit my shape?
Before you go shopping, look at the women's suits and women's shirts in your closet that look good on you. You can even put on your favorite outfit and figure out why certain women's blouses or women's jeans suit your shape so well. Decide which clothing styles are comfortable and fitted, and then shop for women's suits and women's skirts in these fits. Pay attention to celebrities or other women with your body type, too, to find styles that look great.

Which colors are flattering against my skin and hair?
You may have been told to stick to fall colors when choosing women's skirts or shirts because you have red hair or that you were lucky enough to be allowed to wear black clothes because you were a "winter." While some colors may look better with your skin tone than others, you don't have to limit your wardrobe by purchasing only certain colors. Hold shirts up to your face to decide whether they're flattering, and look for lighter or darker shades of your favorite color if it doesn't suit you well. Choose women's pants and other clothing in the colors that you are drawn to, and chances are, you'll get compliments whenever you wear them.

Buy Women's Clothing
Back to Guides Directory