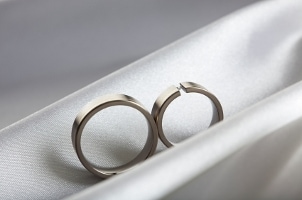 Jewelry is meant to be an investment. Whether you are looking for diamond rings or fashion bracelets, it is important to choose jewelry that will outlast the dent it puts in your budget when you buy it. If you are looking for jewelry that will be around long enough for you to forget where you bought it, consider titanium jewelry. Titanium necklaces, bracelets, rings, earrings, pendants and cufflinks are strong yet lightweight. Consider this guide your research before shopping for titanium jewelry.
Common Questions about Titanium Jewelry:

Are titanium, tungsten and stainless steel different?
Yes. Titanium, tungsten and stainless steel are all industrial metals that have made it big in the jewelry world, but they have many differences. Titanium is the lightest of the three metals, both in weight and color. Titanium will likely surprise you with its lightweight feel. The three metals will also usually vary in price. Stainless steel is generally more affordable than titanium, but tungsten is generally more expensive than titanium. Stainless steel is not as durable as titanium and can rust, which is why it may be more affordable in some cases.

Is titanium jewelry comfortable?
Titanium jewelry is at least as comfortable as jewelry made of other metals. Many people find titanium jewelry to be more comfortable than jewelry made of heavier metals, such as platinum, gold, steel or tungsten, because it is so lightweight. This makes titanium perfect for wedding bands, especially for those who are not used to wearing jewelry on a regular basis.

Will titanium jewelry last?
Titanium is one of the strongest metals available in jewelry. Titanium is highly resistant to corrosion and scratching. Titanium cannot even be melted unless it is in a vacuum. Your titanium jewelry will easily last a lifetime without much care or maintenance. Titanium does form a natural oxide layer over time which will add luster to the jewelry and protect it from the elements. This layer can be polished off by a jeweler or left on the jewelry; this layer will not negatively affect the jewelry's appearance or composition.

What jewelry styles are available in titanium?
You can find almost any style of titanium jewelry. Titanium is common in men's jewelry, especially men's wedding bands. Titanium bracelets, chains, pendants, earrings and cufflinks are becoming more and more popular.

Buy Titanium Jewelry
Back to Guides Directory