FAQs about Thermal Insulated Curtains
by Laura Leiva
Published April 29, 2010 | Updated November 26, 2014
Create privacy and save energy when you buy thermal curtains for your home. They're made of materials that provide a layer of insulation that prevents hot or cold air from entering or escaping a room through a drafty window. While thermal curtains are often made of heavy materials, like cotton or velvet, to regulate the amount of light that comes into the room, you can find curtains in a variety of fabrics that go with any room decor. Learn more about these curtains by reading the answers to frequently asked questions about thermal curtains.
Thermal Curtain Questions: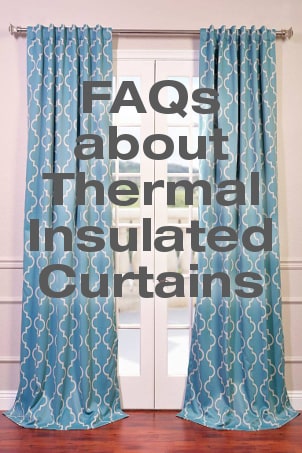 Shop Curtains ▸
Where do I use thermal insulated curtains?


Insulated curtains may be used in any room you choose, but they work especially well in windows exposed to constant sunlight, such as south- or west-facing windows. If you choose to place insulated curtains in the bathroom, look for curtains made from waterproof fabric to withstand humidity and prevent mold. A household that uses air conditioning or central heating frequently will likely benefit economically from using insulated blackout curtains because there is no lost heat or cool air escaping through the window or being absorbed by the window pane.

What styles do thermal curtains come in?


Thermal curtains are available in many styles to suit a variety of decorating schemes. Like regular curtains and drapes, they have various hanging methods, including rod pockets, eyelets, grommets, and tab tops. These insulated drapes and curtains also come in a variety of fabrics, such as silk and microfiber, and patterns to complement or accent the existing room decor. You can also use a double rod and hang different curtains in front of the thermal curtains, if you want to widen your decor options.

How do I care for thermal insulated curtains?


Always follow the manufacturer instructions for cleaning and caring for your thermal drapes and curtains. In general, clean velvet or cotton fabrics using a gentle wash cycle. Tumble dry with low heat and remove the curtains from the dryer slightly damp, or promptly upon drying, to reduce wrinkles. If you hang thermal curtains in your bathroom, wash them frequently to reduce the buildup of residue or mildew. To clean silk thermal blackout curtains, machine wash in cold water and air dry to remove wrinkles. Before washing any types of thermal drapes and curtains, be sure to test a patch for colorfastness so you know the colors won't bleed.

What size should I buy?


You'll want to measure your window and the distance between the ceiling and the floor where the window is located before you choose a size. Read our guide on measuring for curtains to get more information.