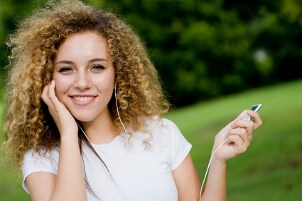 When it comes to MP3 players, iPods lead the industry in style and usability. And for casual music lovers, the iPod Nano is an affordable choice, packed with features. With all the options available, you may want more information to help you decide if the Nano is for you. Here are some frequently asked questions about the iPod Nano and how you can listen, watch and record anywhere.
Questions about the iPod Nano:

Is there more than one iPod Nano model?
iPods are released in "generations," which means that each new line of iPods has a new style, new features and more memory. First generation Nanos had just 1 gigabyte of memory and played music only. By the fifth generation, that had expanded to 16 GB, with video playback and a built-in camera.

How much music or video will the Nano hold?
An iPod Nano with 16 GB of memory will hold up to 4,000 songs or 16 hours of video. It can also hold up to 14,000 photos.

Which audio and video file formats can the Nano play?
Each generation supports different audio and video formats. Fifth generation iPod Nanos will play AAC, MP3, Audible, Apple Lossless, AIFF and WAV file formats. Each of those formats has various forms, so you may want to learn more about file formats to find out what you need your MP3 player to play. The supported video formats include M4V, MP4, MOV and MPEG-4 formats.

Which generations allow me to watch movies and TV shows?
Generation 3 and later iPod Nanos play video. Models before that were audio only.

Which generations of the Nano have FM radio and shoot video?
The fifth generation iPod Nano was the first to feature a built-in camera and an FM receiver. You can also pause live radio broadcasts and rewind up to 15 minutes.

What other features does the iPod Nano have?
Some versions of the iPod Nano also allow you to customize your workouts, changing the pace of your music and keeping track of calories burned through a sensor that can be placed in your shoe. You can also play games, view photos and use a variety of other built-in features.

Buy Ipod Nano
Back to Guides Directory