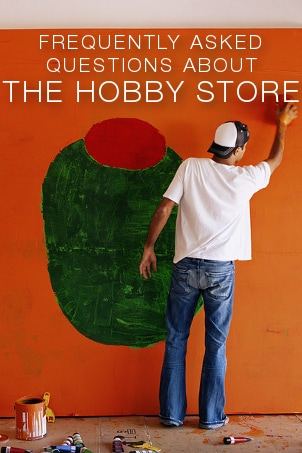 SHOP THE HOBBY STORE NOW >>
Hobbies are an ideal way to deal with stress, and the hobby store is the perfect place to stock up on supplies. When you're faced with stress or problems, it can actually be beneficial to take a step back and take a break. Crafts are an excellent way to help you relax. But if you haven't thought you had time for hobbies, or you have questions about online shopping for craft supplies, then you'll want to keep reading for answers to frequently asked questions about the hobby store.
Questions about Hobbies:

Why do I need a hobby?
Hobbies are a healthy way to relax and unwind after work or just for taking a break from your day-to-day chores. Spending time doing something pleasurable will help to decrease the amount of tension you may feel. Take a step back from a problem you're trying to solve and occupy your mind and your hands with something you enjoy doing. Once you've had time to unwind, you'll be able to look at the problem again with fresh eyes.

How do I pick a hobby?
Start by thinking about what you might like to create. What finished product would make you happy? Would you love to eat a beautifully decorated cake? Would wearing clothes that you sewed yourself feel good? You can pick a hobby that lets you use your imagination or one that requires step-by-step instructions.

What if I pick the wrong hobby?
Try not to worry about choosing the "wrong" hobby, but be careful not to invest too much money in supplies for a hobby you've never tested out before. Start with a craft kit to try out a new hobby. If you don't find yourself enjoying it, you didn't spend much money on it, so you can move on to something new. The thing that brings you pleasure and that you look forward to doing will become apparent once you have given a few things a try.

What is available at the hobby store?
The hobby store carries everything from sewing machines to paint to scrapbooking supplies. It's easy to stock up on what you like to do or to find something brand-new to try, whether it's painting, knitting, woodworking, jewelry making, scrapbooking, or baking. The hobby shop is the perfect place to stock up on hobby supplies that you already love or to find a new hobby.

What if I don't feel confident making something?
Not all hobbies come from the hobby store. You may want to try learning a new language, playing a musical instrument, fishing, gardening, running marathons, or even doing yoga. Making something isn't for everyone. But you may find that your other hobbies lead to craft ideas; for example, if you take up fly fishing, you may want to learn how to tie you own flies. Anything that is both engaging and relaxing can be good for you to do now and then.

Shop Art Supplies
Shop Crafts
Shop All Crafts & Sewing
See All Guides
Read More Craft Guides
Learn More about General Crafts