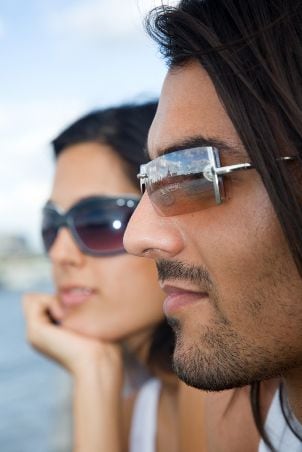 They protect your eyes, disguise your face and make you look cool: Sunglasses are among the most versatile accessories you can buy. You may have a few questions about the right sunglasses for yourself and your family, however. Fortunately, we have answers, whether you're wondering about what eyewear is made of, the benefits of prescription sunglasses, designs of men's sunglasses and women's sunglasses or the various lenses in discount sunglasses. Read on for a terminology of sunglass terms and frequently asked questions about designer sunglasses.
Questions about Sunglasses:

What are sunglasses made of?
Basically, sunglasses are made from two components: lenses and frames. Frames can be nothing more than thin metal wires that just surround the lenses, or they can be large plastic casings, especially in sport sunglasses and oversized sunglasses. Most frames are basically flat so they can be folded into a pocket; many designer sunglasses come with soft bags or cases for protection. Lenses come in almost every color of the spectrum. Polycarbonate lenses are especially valuable when working in hazardous environments or when included in sport sunglasses, as they are nearly indestructible.

Are mirrored lenses better for sunglasses?
That depends on your attitude. If you want to hide your eyes, mirrored lenses are definitely the way to go. As for reduced glare or UV protection, this eyewear is no different than discount sunglasses with colored lenses.

What about gradient lenses?
These sunglasses have a lot of color on the upper half and less (sometimes no) color on the lower half of the lens. If your activities vary and you need clear vision mixed with your eye protection, these can be a useful alternative. Polarized sunglasses are especially useful for sports and outdoor activities, as they reduce the sun's glare; men's sunglasses are often polarized.

Should I buy prescription sunglasses?
Prescription lenses are very common and generally cost little more than other corrective eyeglasses. Prescription sunglasses are great for those who want to participate in outdoor sports but don't want to wear contacts, as contacts can often become dry and irritate the eye.

What are photochromic lenses?
Photochromic lenses have a coating which darkens in bright light and becomes clear again in low light; these sunglasses have been around for decades and are very popular.
Sunglasses Terminology:

Bridge: The part of sunglasses that extends across the nose.

Cat-eye: Most common in women's sunglasses, lenses which are wider in the middle than on either side with a greater curve on the bottom than the top.

Clip-on: Sunglasses that attach to prescription glasses with a mechanical or magnetic clip.

Impact-resistant: Also known as protective glasses or safety glasses, these lenses, usually polycarbonate, are designed to absorb an impact; they are shatter-resistant, not shatter-proof. If you need these, choose only ANSI-compliant sunglasses.

Polarized sunglasses: With a filter between the front and back surface of the lens, horizontally reflected glare is much reduced; polarized sunglasses are very useful near water, snow, ice, glass and other highly reflective surfaces.

Temple: The arm of the sunglasses, running from the ear to the lens frame.

Wrap-arounds: The lens curve around the head or the temple is about as tall as the lenses; wrap-arounds eliminate peripheral vision but increase sun protection. Oversized sunglasses often come in a wrap-around style.

Buy Sunglasses
Back to Guides Directory