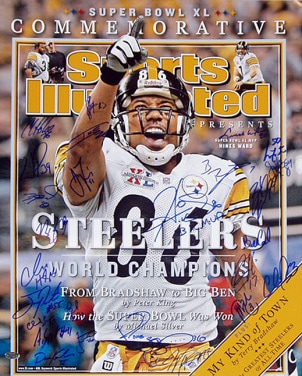 Loading up with sports collectibles is the best way to demonstrate your passion for sporting. Make any office or room your natural environment by surrounding yourself with sports collectibles. Of course, collecting sport memorabilia can give you more than just nice decorations; it can become a beloved hobby. Whether you are looking to collect baseball cards, autographed baseballs, sports plagues, sports cards, bobbleheads or any other sport memorabilia, make sure you are ready for the rigors of the hobby. Here are some answers to common questions that might help you get started.
Sports Collectibles Questions:

I love my collectibles, but how do I know if my collection has any monetary value?
A few ways to speculate about the value are to consider the age of the collectibles, their condition, whether they commemorate a team or player that was popular or if the player is still alive. These things can all affect the general value of sports collectibles. For a better estimate, look for price-guide magazines. There are also companies that will give you an estimate, but these usually come with a fee, so decide first if your collectibles are valuable enough to cover that cost. The bottom line, however, is that your collectibles are worth whatever someone is willing to pay for them.

What are the differences between buying new sports collectibles and buying them from the secondary market?
When you purchase your sports memorabilia new, you are getting collectibles that have never been owned before and are in pristine condition. Often, you'll find collectibles commemorating athletes who are currently playing. On the other hand, sports memorabilia from the secondary market has been owned before and, depending on the previous owner, may show some signs of age. Older pieces have had time to increase in value, so they may be more expensive. When purchasing expensive pre-owned sports collectibles, it is often a good idea to have the piece authenticated by a third party before you make the purchase.

How can I have my collectibles autographed?
Watch for sponsored events where athletes will be signing items, such as book signings or in-store appearances. You can also obtain signatures at sports games. If this is how you plan to have your collectibles autographed, make sure to show up early; athletes are more likely to take the time to sign during a warm-up than once they are in competitive mode. You can also try to get autographed memorabilia during a pre-season event, such as during spring training for baseball. Here's a tip: Many athletes are more likely to go out of their way to autograph collectibles for women and children, so you may want to have your younger sister ask to have that ball signed.

Buy Collectibles
Back to Guides Directory