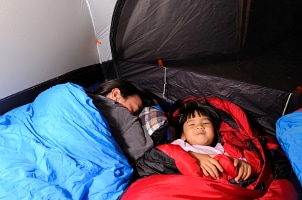 It is hard to beat a night sleeping in the cool, crisp night air of the wilderness, with the gentle sound of a stream running in the distance. But not having the right sleeping bag can ruin your night's rest and camping experience. So spend a little time finding out about what sleeping bag is right for you, because having the right camping gear is key to a good time.
Frequently Asked Questions:

What are the different bag shapes?
Rectangular sleeping bags are the most common, allowing a lot of room to move around within the bag. Mummy bags are narrower, tapering towards your feet, and usually come up over your head. Mummy bags are designed to maximize warmth while still remaining very light, making them popular for backcountry camping. Rectangular sleeping bags tend to be more popular for car camping because most people find it comfortable to be able to move more within their sleeping bag.

Are there different sizes of sleeping bags?
Yes, but you won't be deciding between small, medium and large. There are kid- and adult-size sleeping bags, and the dimensions vary from bag to bag. It is best to find a sleeping bag that is big enough for you but not too big. Extra space inside a sleeping bag will make the bag cooler.

What materials are used to insulate the sleeping bag?
Synthetics and down are the two most popular fillings in sleeping bags. Down is light and compresses very well. Synthetics are usually cheaper but still insulate well and are better than down insulation in wet environments.

What materials are used in the shell?
Cotton and nylon are the most popular materials for sleeping bag shells. Cotton breathes very well and is great if you only camp during the summer and in warmer areas. If you will be camping more in conditions that could become damp or cold, nylon will work better for you.

What does the temperature rating really mean?
When a bag is rated to +20 degrees, the manufacturer is saying that you should be comfortable when temperatures are at or above 20 degrees Fahrenheit. But this isn't necessarily the case, as "comfortable" is subjective. It is best to use the temperature ratings as a rough, optimistic opinion of warmth.

Buy Sleeping Bags
Back to Guides Directory