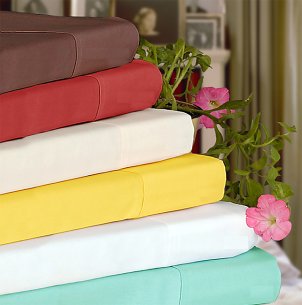 With so many different options out there, shopping for and caring for sheets can be a mystifying process. While you can find out the basics of using and buying sheets on any old FAQ sheet, there are always a few questions that are left unanswered. You can find some answers to those more random questions on this sheet featuring new questions about sheets.
Questions about Sheets:

My new mattress is thicker than my old one. Which sheets will fit it?
Most new mattresses run 12 to 20 inches in depth, whether spring mattress or memory foam, and most sheet sets made today are manufactured with deep pockets to accommodate these variations. Because of the elasticized corners on most fitted sheets, sheets with deeper sides will fit almost any mattress snugly, whether it is an older style mattress or a newer one. In our bedding store you will find bed sheets to accommodate all mattress sizes, even if you have a mattress pad or memory foam topper on your mattress.

What is meant by "EAG"?
The designation EAG, for Extend A Grip, is a feature of skirting and other mattress coverings that helps create a snug fit over the ends, sides, corners and top of a mattress.

Why are designer sheets so expensive?
In some cases, designer-brand sheets or bedding is made from top-quality materials and construction and is worth the price. Many times, however, designer-brand bedding is expensive simply because it bears a designer logo. When you shop for sheets online, look for an online retailer that has a wide selection of sheets and that offers detailed product information. That way you can choose your sheets based on materials and construction, not simply on brand name.

How can I keep my sheets from pilling?
"Pilling" is characteristic of all man-made fibers. Polyesters and acrylic fabrics tend to unravel with wear, and the loose threads collect on the surface. Natural fibers, such as linen and cotton, also pill, but the loose fibers are removed during washing. There are a few things you can do to reduce pilling on your bedding and sheets, most of which have to do with how you wash your sheets. Using a shorter washing time, loading your washer loosely, washing sheets separately from items that produce lint and using fabric softener can all help. Simply buying Egyptian cotton sheets also helps prevent pilling, since Egyptian cotton naturally produces less lint.

How do I remove wrinkles from my sheets?
We are all short of time, and ironing anything can be irritating, especially sheets. In the 1990s, manufacturers started putting finishing agents on their fabrics to decrease wrinkling. If ironing your bedding is not an option, check the product descriptions on new sheets to be sure that you choose sheets which will remain as wrinkle-free as possible.

Is it hard to care for silk sheets?
No. As a general rule for silk sheets, use the gentle wash cycle and a mild soap to clean them, and then rinse the sheets in cool water and tumble dry on a low setting. Silk bed sheets and garments resist wrinkling and will also air-dry beautifully. If the product information indicates that a fabric is washable, then it has most likely been washed before manufacturing to ensure that it is cut and finished to size. Overstock.com recommends that you follow the manufacturers' instructions on the care of silk sheets.

Buy Sheets
Back to Guides Directory