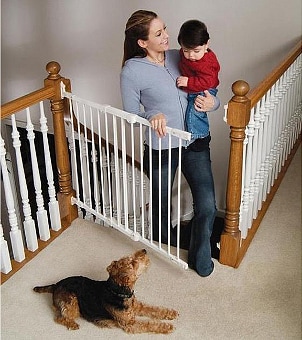 Keeping your child safe involves using safety gates in baby proofing your home. Stairs are always dangerous for babies, as are other areas of your home, like the bathroom, kitchen and workroom. Using child gates can help keep your baby safe when he's starting to crawl and walk around, and safety gates can even keep dangers away from your baby, like excitable pets and other young children. Read on to learn answers to some of the questions parents most commonly ask about child safety gates.
Questions about Safety Gates:

Will using a safety gate make my home safer?
Child safety gates do make your home safer for your baby, and installing gates is one of the easiest ways to child proof your home. Safety gates can be placed in doorways to keep a child out of a room with dangerous appliances, furniture and equipment or at the tops of stairways to prevent a child from falling down the stairs. Many parents use child gates to keep children from wandering out of their sight as well.

Are hardware-mounted or pressure-mounted safety gates better?
Both hardware and pressure-mounted safety gates are helpful and effective. You'll want to use these two types of gates in different areas in your home. A hardware-mounted safety gate is typically sturdier, making them best for stairways and other dangerous areas. Pressure-mounted safety gates are easy to move, and a pressure-mounted gate that can be moved from room to room is also good to have, as your child's safety needs are likely to change. You will want to be able to move your child gate easily to meet these changes.

Will safety gates damage my walls?
Some parents may be reluctant to install a child gate in their home because they don't want to drill holes in their walls, but child safety is always important. You can always fill in the holes later when you no longer need a child safety gate. It is possible for a pressure-mounted gate to blemish your paint job or cause a small welt in your wall, but it is nothing that a little touch-up paint or light spackling won't fix.

Do child gates come in different sizes or is there only one standard size?
Most baby safety gates are made to fit standard doorways and openings measuring between 26 and 38 inches, but you can find some models that measure nearly double the standard size to accommodate homes and apartments with wider thoroughfares. Make sure to measure the doorways, halls and stairways in your home before purchasing a child gate. Safety gates need to be properly installed in order to be effective, and proper installation includes making sure the child safety gate fits the space.

Buy Child Gates
Back to Guides Directory