FAQs about Queen Bed Dimensions
by Barbara T. Biehler

A queen bed suggests the feel of opulence and splendor in its very name. Developed as a roomy alternative to a standard full-size bed, queen beds provide more space for couples to sleep in comfort throughout the night. A queen bed is also a great option for singles over twin- or full-size beds because they provide a larger sleeping area that some people may need to get a sound, restful night's sleep. Look below to find answers to some of the most frequently asked questions about queen bed dimensions.
Frequently Asked Questions: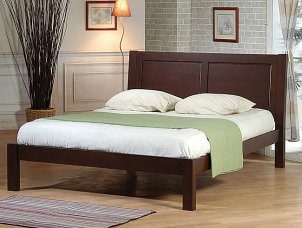 Shop Queen Beds ▸
What are the dimensions of a queen bed?


A standard queen-size bed measures 60 inches wide by 80 inches long. In comparison, a full-size bed is 54 inches wide by 75 inches long, and a twin-size bed is 39 inches wide by 75 inches long.

How deep is a queen bed mattress?


Queen mattresses do not have standard depth sizes. Queen-size bed mattresses, like mattresses for all other bed sizes, can vary from 9 inches to 16 inches deep or more.

Do queen beds come in other sizes?


Three non-standard queen bed sizes exist. Olympic- or expanded-size queen beds are 66 inches wide by 80 inches long, six inches wider than standard queen beds. California queen beds are water beds that measure 60 inches wide by 84 inches long, the same width as standard queens, but four inches longer. A split queen, a size often used for adjustable beds, is the same width and length as a standard queen bed, but the mattress is split into two separate parts, each one 30 inches by 80 inches.

Will all queen sheets fit all queen beds?


Most fitted queen sheet sets are only made to fit standard-size queen beds that measure 60 inches by 80 inches and are no more than 15 inches deep. Order Olympic, California and split queen sheets specifically by name to ensure those sheets will properly fit those mattress sizes. Some companies also manufacture queen sheets with extra-deep pockets, which are made to accommodate mattress sizes up to 22 inches deep.