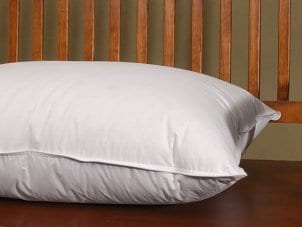 For a great night's sleep, you need pillows that will cradle your head and alleviate pressure placed on the spine. Pillows are available in enough varieties to suit all kinds of sleepers, but because there are so many different types of pillows, it's natural to have questions when you're trying to decide on the perfect one. Take a look below to learn answers to some of the most frequently asked questions about pillows.
Questions about Pillows:

What are pillows filled with?
The typical pillow fillers that you will find are foam, synthetic fills, feathers and down. Feathers and down may be the most expensive pillow fillers that you will find, but they also produce the softest and most comfortable pillows. This is because down-filled pillows will conform to the shape of your head more than foam or fiber-filled pillows. If you are allergic to duck or goose down, you can get hypoallergenic down pillows, which afford you the softness and comfort that you'd get from a normal down pillow without irritating your senses. Memory foam pillows are also very popular because they provide a personalized support system for your head and neck.

How should I care for my pillows?
The most hygienic way of taking care of yourself and your pillows is to cover them with a pillow case that you launder regularly. Pillow cases can take a number of forms, including zipped covers that you place on the pillow before adding the decorative case, giving your pillow two layers of protection. Replace the pillows themselves every couple of years, especially if you have allergies, because pillows absorb dust and allergens even if they are covered.

What are anatomical pillows?
Anatomical pillows are special therapeutic pillows that are healthier for you than standard pillows. Also called ,strong>orthopedic pillows, Anatomical pillows are made in a certain shape that supports your head and neck while you're sleeping, so your spine is correctly aligned at night. This reduces the pressure on your intervertebral discs and other spinal nerves. Although sleeping on these pillows may feel strange at first, they will ultimately benefit you. If you have severe neck or back pain, look for orthopedic pillows and neck pillows that focus on correctly supporting back sleepers, side sleepers or stomach sleepers.

Buy Pillows
Back to Guides Directory