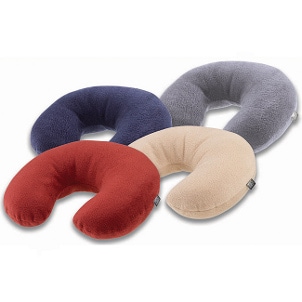 A traveler's best kept secret is a comfortable travel pillow. With airfare hikes and extra baggage fees, the last thing you want to worry about is packing a regular pillow. There are several styles available that are made to fit in tight spaces and provide a comfortable way to snooze, helping you get to your destination feeling refreshed and energized.
Travel Pillow Questions:

What is the best type of pillow for airplane travel?
For air travel, you'll want a pillow that is easily stored and not too intrusive on other passengers' space. Therefore, you unusually can't go wrong with inflatable travel pillows. Inflatable neck pillows are shaped like the letter U and take minimal effort to blow up. You may also want to consider inflatable cylindrical pillows that attach to the seat behind your head. These take a little more air to blow up, but they fold just as tightly as the U-shaped inflatable pillow that rests on your neck.

What are the best travel pillows for traveling by car?
Since quickly inflating and deflating a pillow is less of a concern when traveling on the road, you can upgrade to a slightly larger lap-rest pillow. These cube-shaped inflatable travel pillows rest on your knees and have a gentle slope that allows you to comfortably rest your head when traveling as a passenger. Prop this pillow up against the seat or dashboard and enjoy sleeping in a natural position as you travel.

Are there pillows I can use for napping while traveling and sleeping at night?
If you're wary of hotel pillows or just want a pillow that will provide more support, try a multifunctional travel pillow. These pillows are shaped more like traditional pillows and are often made of memory foam or down. To avoid bulk, look for special versions of memory foam travel pillows that fold into a pouch or carrier. Make traveling feel more luxurious with down travel pillows that come with cashmere covers. These down travel pillows can make jet lag obsolete by providing you with a comfortable place to rest both on the plane and off.

Buy Travel Pillows and Blankets
Back to Guides Directory