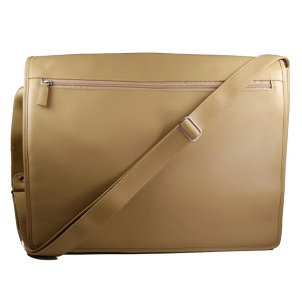 For decades, messenger bags, also known as courier bags, have been used by cyclists to transport packages and documents to multiple locations easily and safely. Now a popular trend, messenger bags are a fashionable choice for people ranging from students and cyclists to office workers. The unique design and wide range of choices may leave you with questions. Take a look below to find the answers to frequently asked questions about messenger bags.
Frequently Asked Questions:

What is a messenger bag?
Taking the place of backpacks, messenger bags have risen in popularity not only because of their ergonomic design but for their ease of use. Messenger bags have many compartments and slots. Some have an inside clip to attach keys or a zippered pouch for loose change, which can help you stay organized on the go.

How do I wear a messenger bag?
The padded strap should be worn over one shoulder, crossing the chest. A messenger bag should hang at the waist or should be slung toward the back. Like any carryall, messenger bags may become uncomfortable over time. Evenly distributing items will assist in overall comfort. Place heavier items, such as textbooks and laptops, in the middle of the bag, and then distribute the lighter items around them.

Which material and style is best suited for me?
Messenger bags are ideal for carrying many different items, ranging from books and office supplies to water bottles and clothing. Made from different types of materials and designed for a wide variety of uses, messenger bags offer many design options. The most common materials are as follows:

Messenger Bag Materials:

Nylon: Nylon bags are designed with sports enthusiasts in mind. They're highly sought-after in the sports world thanks to their lightweight design and flexibility. Easy to wipe down and waterproof, nylon messenger bags will stand up to the harshest climates and adverse weather conditions.

Canvas: Canvas is a popular messenger bag option. An easy to clean, sturdy textile, canvas is both durable and comfortable when it comes to packing around personal belongings.

Leather: An upscale look for a modern trend, leather messengers show off a business-like air while taking the place of a briefcase. These bags will carry all the essentials needed to put in a full day's work and then some. Designed to keep all business materials organized, most will have a compartment for a laptop and folders or loose papers, and smaller pockets for business accessories.

Buy Messenger Bags
Back to Guides Directory