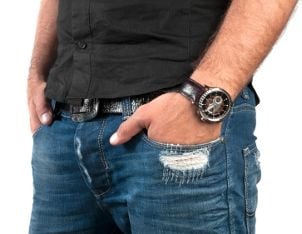 With belts, hats, scarves and other stylish men's accessories available, creating a great wardrobe can be a snap. If you have questions about the right fashion accessories to buy or concerns about men's designer accessories, we have the answers you're looking for. Read on for frequently asked questions about men's accessories and tips on creating the perfect outfits.
About Men's Accessories:

I've heard that the leather on my shoes and belt should match, but what about my watch band?
It's true that men's belts made of black leather should be worn with black shoes and likewise for brown. Wearing a matching wristband could complete the look, but it's not essential to match watch bands with men's belts. If you want to wear a brown leather watch strap with your black belt and shoes, most likely no one would even notice. You can also wear other accessories for men, such as cuffs and men's hats, that don't match your shoes and belt exactly.

I have cashmere scarves and gloves for winter, but how do I take care of them?
Most labels on cashmere say "dry clean only," and you can't go wrong by following these directions. Dry-clean your cashmere men's scarves and men's gloves a few times during the winter if you wear them often, and make sure you have your cashmere cleaned before you store it away for the summer. If you're on a tight budget, you can hand wash cashmere with a very mild detergent, but be very careful not to wring it out; just let delicate men's gloves and men's scarves dry flat on a towel.

Which men's accessories make the best gifts?
Like with any gift, it's easier to shop for accessories for men when you don't need to know an exact size. Scarves, men's wallets and key rings all fit that description, and there are quality styles of each of those that would make excellent gifts. Men's money clips and men's hats also make wonderful gifts. Be sure the fashion accessories are worthy of the recipient; look for quality materials -- like cashmere, quality metals and fine leather -- or for men's designer accessories that are sold in stylish gift boxes.

Buy Fashion Accessories
Back to Guides Directory