by Barbara T. Biehler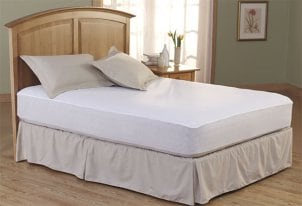 A mattress pad is an indispensable yet often-overlooked bedding item. Mattress pads are multifunctional; they can protect your mattress, provide extra cushioning and softness, and keep the sheets on your bed from sliding out of place. Contemporary mattress pads come in various styles and types, each made to fill a specific purpose. Below, you'll learn answers to frequently asked questions about mattress pads.
Frequently Asked Questions:

What is a mattress pad?
A mattress pad is a covering that is made to be placed between the mattress and the fitted sheet on a bed.

How does a fitted mattress pad work?
A fitted mattress pad closely resembles a fitted sheet and covers the top and sides of a mattress. Only the top portion of this type of pad is quilted and lightly padded. Fitted mattress pads fit well on most standard-size mattresses. A guaranteed-to-fit mattress pad will fit even the deepest mattresses securely. The flexible sides will accommodate mattresses up to 24 inches deep.

Can a mattress pad make my bed more comfortable?
Fiberfill mattress pads or featherbeds provide an extra layer of softness and cushion between you and the mattress. Convoluted or egg-crate mattress pads are dimpled foam pads made to more evenly distribute body weight across a sleeping area. Visco elastic or memory foam mattress toppers are top-of-the-line pads designed to conform to a body's temperature and shape for a more comfortable night's sleep. Any one of these mattress pads will add an extra layer of softenss to your mattress.

Are all mattress pads made for comfort?
Some mattress pads or toppers are made to simply cover the top of the mattress and have no material on the sides to anchor them down. Non-padded mattress covers can be made from cotton, vinyl or polyester and are used to form a protective barrier for the mattress. Some of these mattress pads provide waterproof protection, protecting the mattress from accidental leaks or spills; others prevent the infiltration of allergens such as mold, pet dander or dust mites.

From which types of materials are mattress pads constructed?
Many mattress pads have tops that are made from 100 percent cotton in various thread counts. The interior of these pads can contain polyester fiberfill, wool, cotton or down. Vinyl, cotton, polyester and polyurethane are often used in constructing mattress pads to be used as allergen barriers.

View All Mattress Pads
Back to Guides Directory