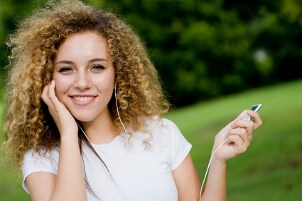 Any model of iPod will make a great digital music player, but you need a few tools and accessories to take advantage of all the features of your iPod. The answers to these frequently asked questions will give you a better understanding of iPod basics and how to use your portable MP3 player.
Questions about iPods:

Where can I get music for my iPod?
You can find music for you iPod online or from your existing CD library. You can use a number of different programs to load music files from your computer to your iPod. Each generation accepts a different variety of music file types, and certain software can convert music files to forms your iPod can use.

What kind of batteries do iPods use?
All iPods are powered by a rechargeable lithium-ion battery. These batteries must be charged through the computer using a USB cable or through an adapter for electrical outlets. The lithium-ion battery will last for several years with normal use. Charging times vary between different types of iPods.

How do I connect the iPod to my computer?
All iPods connect to computers through the USB ports. A new iPod typically includes a USB-interface cable, through which your iPod can communicate with a computer and receive new music and video files.

Are iPods only compatible with Macs?
No, you can also use a PC to charge the battery as well as load music, images and videos. You can download Apple's iTunes software or use a similar program to work with your iPod.

Can I listen to the music on my iPod without headphones?
Yes, external iPod speakers are available. You can find small iPod speakers for a small space, including the bathroom, or full-fledged iPod docking stations with powerful audio. You can even find iPod clock radios that will charge your iPod while simultaneously playing your music. Consider purchasing an FM transmitter that broadcasts a radio signal to your car or home stereo. These great iPod accessories connect to nearly any type of iPod through the headphone jack.

Can I use different earphones with an iPod?
You do not have to use the earphones that come with the iPod. All iPods feature a standard stereo mini-jack port, so you can practically use any headphones you like. In fact, high-quality earbuds or noise-cancelling headphones can bring much higher audio quality from your iPod.

Buy iPods
Back to Guides Directory