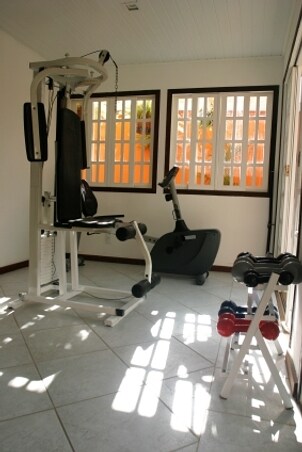 When it comes to getting in shape, home gyms are the perfect way to keep your body fit without the hassle. While getting a pricey gym membership or exercising outdoors in the cold can sometimes conflict with your schedule, home gyms are always there for your use. With home gym machines, you never have to miss another workout. If you are ready to gather a collection of home gym equipment and whip yourself into shape, here are a few answers to some common home gym questions.
Home Gym Questions:

How do I create a complete workout with my home gym equipment?
Once you have your home gym set up to do a warm-up, cardio, strength training, flexibility training and a cool-down, you can mix up your day-to-day workouts however you like. With strength training, you'll want to make sure you focus on your upper body, lower body, back and core on different days and never work the same muscle group two days in a row. After all, a home gym is only as good as the work that goes into it.

Where can I get some advice on all I can do on my home gym machines?
Fitness videos and books can give you the kind of advice that only comes from a trained professional. Choose fitness videos to help guide you through a routine on your treadmill or exercise bike. Choose fitness books that will give you tips on weight-training form as well as diets to go along with your weight training. You'll be able to put your home gym to good use with the proper instruction.

Is there anything that would help me with my chronic pain?
Exercise can help reduce all sorts of chronic pain because -- young or old -- the body was made to move! Be sure to check with your doctor first, and then start out with a gentle, low-impact home fitness machine, such as an elliptical trainer, to condition yourself. There is home fitness equipment for every level of workout.

Is it pricy to put together a home gym?
Home gym fitness equipment varies widely in price. However, you can get just as good a workout on some of the cheaper machines as you can on expensive ones. Search for discount home gyms online. Meanwhile, don't forget to read home gym reviews, especially customer reviews. You can get the best home gym equipment for your home without spending a bundle.

Buy Home Gym Machines
Back to Guides Directory