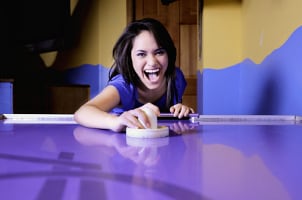 When discussing table games, it's impossible to leave out hockey tables. This fun recreation room game has entertained families for decades. Air hockey tables are considered staples in most recreation rooms nowadays. The speed and skill that players need to make a goal are a couple of the reasons many families enjoy playing table hockey in the first place. This sport is easy to learn and fun to play. Keep reading for answers to frequently asked questions about hockey tables to learn more.
Questions about Hockey Tables:

When was the hockey table first invented?
Although much about the invention of the hockey table is left to speculation, we do know that it was invented in the early 1970s by three engineers. Soon after its introduction to the gaming world, many air hockey teams were formed and world championships got quickly underway.

How do hockey tables work?
An air hockey table relies on the air that shoots from the air holes drilled in the surface of the table to help create a frictionless playing surface. This air comes from a fan and makes the air hockey puck hover over the tabletop. The frictionless surface allows the hockey puck to travel at high speeds while players try to shoot the hockey puck into their opponent's goal.

What equipment do I need for my hockey table?
The sport of table hockey doesn't require a lot of extra equipment. All you need is your hockey table, a place to plug it in, an air hockey puck or two and your mallets.

How do I clean my air hockey table?
You'll need to clean your table game on a regular basis to keep the playing surface nice and smooth. Avoid cleaning your air hockey table with harsh chemicals or rough cloths, like stainless steel pads, because they may strip the finish on the tabletop's surface and cause drag. Just use a soft, damp cloth to wipe the surface of the hockey table and make sure the tabletop is dry before you use it again. If your hockey puck is slowing down during play, then you can use a little furniture polish on the hockey table's surface. Try using pipe cleaners to clean out the air holes to make sure there's nothing obstructing the air from getting through. You should always make sure that your hockey table is turned off and unplugged before you start cleaning it.

What if my blower doesn't work anymore?
Over time and through excessive use, your blower unit may break down. There are a few things you can try yourself before you take it to get repaired. Make sure the fan blades on the blower are clean. Dirty fan blades won't produce much air. Use a soft rag to clean dust and dirt from your fan blades and see if that takes care of the problem. You may also want to check and see if anything is clogging the air holes. If neither of these options work, you may need to take the blower into a repair shop or replace it so you can continue to play with your hockey table.

How many players can play at an air hockey table?
Hockey tables are built for two players. This game can be played either for recreation or for competition.

Buy Air Hockey Tables
Back to Guides Directory