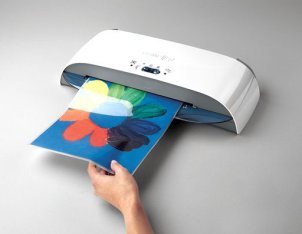 Heat pouch laminators make laminating at home quick and easy. Using laminating pouches that are sealed on three sides, heat pouch laminators fasten protective film onto cards, photos and a variety of scrapbooking and office items. Heat pouch laminators are tailored for home and personal use and are perfect for businesses as well, because they are versatile but also affordable and easy to use.
Questions about Laminators:

What is a heat pouch laminator?
A heat pouch laminator is a simple machine that uses lamination pouches. A lamination pouch is sealed on three sides and is coated with a heat-activated film on the inside. Simply slide a photo, gift tag, card, document or scrapbooking item into the pouch, and the heat-activated film will adhere to your item as it passes through the heat pouch laminator. Heat pouch laminators are relatively small and portable and can laminate practically anything that is no larger than a standard piece of paper. Some heat pouch laminators are larger to accommodate bigger items.

What are the benefits of a heat pouch laminator?
Laminating preserves and protects your important documents from getting wet or dirty. It also adds a touch of professionalism to scrapbooking and craft items. While laminating machines can be bulky, expensive and difficult to use, a heat pouch laminator is specifically designed to be simple and affordable. Because the pouches come in a variety of sizes, a heat pouch laminator can be used to laminate menus, book covers, identification cards, business cards, gift tags, photos, bookmarks, school papers, important documents and practically any office supplies you need to protect with a quality plastic covering.

How do I choose the right heat pouch laminator?
Heat pouch laminators come in a variety of sizes and price ranges, so there are plenty to choose from. First, consider what you plan to laminate. Do you need an extra-large heat pouch laminator for laminating signs and large documents or will a compact machine for laminating photos, cards, scrapbooking and craft supplies be better for you? You should also have a budget in mind and consider the features and portability of the different machines.

How do I shop for lamination pouches?
Most heat pouch laminators will come with a set of lamination pouches in a variety of sizes. You will probably find out pretty quickly, however, that laminating is great for all kinds of projects. This means you will need refill lamination pouches. Lamination pouches are available in a variety of thicknesses. The thickness of lamination pouches is measured in micrometers or MIC. Standard pouch laminators for home and office typically use 80-20 MIC, but there are many other thicknesses available for a variety of laminating jobs. Consider your heat pouch laminator when purchasing refill pouches, as some sizes and thicknesses will only work with specific machines.

Buy Laminators
Back to Guides Directory