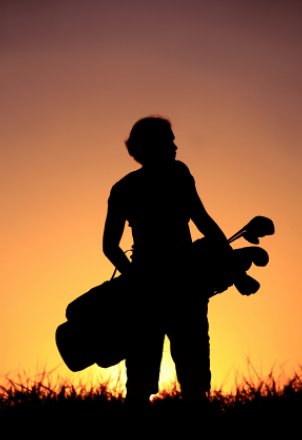 While all golf bags have one central purpose in common -- to carry a player's clubs during a round of golf -- there are many variations of golf bags designed to meet the specific needs of individual golfers. Here are some of the most frequently asked questions about golf bags and tips on how to choose a golf bag that will best serve you on the golf course.
Questions about Golf Bags:

What are the most common styles of golf bags available to the recreational golfer?
There are three main styles of golf bags available: the carry bag, the cart bag and the staff bag. A carry bag, also known as a stand bag and a sport bag, generally has a double-strap system to equally distribute the weight of the bag on a player's shoulders as he carries the bag through his round of golf. It also features two automatically folding legs that are deployed when the golfer sets the bag down so that it may remain upright, making club selection easy for the golfer. This style of bag is usually made of nylon and other lightweight materials. A cart bag is somewhat larger and heavier than a carry bag and is most often seen strapped to the back of a riding golf cart. Because of its larger size, a cart bag has room for additional golf accessories, clothing, food and drinks. A staff bag is extremely large and is most often seen being used by professional golfers. These bags are available to recreational golfers but are considered by many to be impractical for regular use.

Do some golf bags offer special features to look for?
Yes. While golf bags originally started out with only one or two pockets for storage of anything other than golf clubs, today's bags offer a plethora of features, so it's important to look for the ones that are important to you. Some of the features available on contemporary golf bags include umbrella holders, insulated beverage holders, cell phone compartments and waterproof pockets for wallets and other valuables. With innovative features being introduced to golf bags all the time, be sure to inspect each bag you are considering for what it has and what it doesn't.

Do golf bags require any maintenance?
Yes, and some more than others. If your golf bag is made of leather, it is extremely durable and should last many years; however, you will need to occasionally clean and condition the leather. Leather cleaning products are commonly available and easy to use. If your bag is vinyl or other synthetic material, a simple cleaning with mild soap and water will go a long way to extending the bag's life. It's also a good idea to keep your bag out of direct sunlight as much as possible when you're not on the course. Nothing reduces the life of a golf bag like over exposure to direct sunlight.

Buy Golf Bags and Carts
Back to Guides Directory