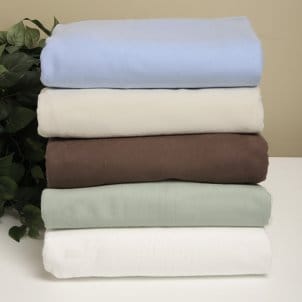 During cold winter months, flannel sheets are often the bedding of choice. Not only are they soft, but they fit on a variety of bed sizes, ranging from cribs to California king flannel sheets. There are plenty of choices when you're looking for flannel sheets: weight, pattern, color and price all play a role. Although flannel sheets are usually only associated with cold weather, they are also useful for increasing comfort during warmer months. Read over this article to find answers to some of the most frequently asked questions about flannel sheets.
Frequently Asked Questions:

What should I know about thread counts?
As opposed to other sheet sets, the thread count for flannel sheets is not the same. For these types of sheets, the softness and quality will depend on a fabric rating. For the longest-lasting flannel sheets to keep you warm, those with a fabric rating of 5 ounces to 6 ounces for every yard are ideal purchases. Flannel sheets come in a variety of prices, so select the set that is the best value within your budget. Cheaper sheet sets may be beneficial at the time, but they may not ensure many years of use.

What should I consider when choosing colors and patterns?
The tighter the fiber, the higher quality flannel sheet sets are, and they will last longer than cheaper alternatives. Flannel sheets often have a printed pattern on them, which may fade over time and washings if you buy sheet sets with a low fabric rating. For long-lasting color, select flannel sheets that have yarn-dyed fiber.

How should I care for my flannel sheets?
To keep flannel sheet fibers soft while preventing colors from fading, wash them with lukewarm water. Use mild detergent to keep fabric soft and dry the sheets thoroughly with a low heat setting before putting them back on a bed or in a storage closet.

What are the most popular types of flannel sheets?
Although plaid flannel sheets are historically the most popular flannel sheet set option, solid-colored flannel sheets and flannel duvet covers are also best-sellers because they are easy to incorporate into your current home decor. Many brands have also begun producing deep-pocket flannel sheets for oversized mattresses or beds with memory foam mattress toppers.

Buy Flannel Sheets
Back to Guides Directory