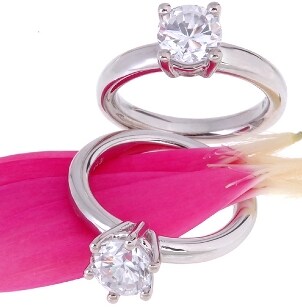 If you have questions about engagement rings, then you are in the right place. Engagement ring knowledge will help you get the best diamond ring for your money and also ensure that you select wedding rings that will complement your personal style. With so many diamond engagement rings to choose from, it is important to do a little research before shopping for diamond rings. We have gladly done the research for you; check out our helpful answers to frequently asked questions about engagement jewelry.
Engagement Ring Questions:

We want something unique. What are the options?
Shop outside of the traditional wedding ring genre to find distinctive engagement jewelry options. In the general realm of fine jewelry, designer wedding rings offer both classic sophistication and cutting-edge fashion. White diamonds aren't your only option for a diamond engagement ring either. Colored diamonds, such as a dazzling canary yellow or softly glowing pink stone, are becoming more popular in high-end jewelry. Alternatively, pick a gemstone ring accented with diamonds to symbolize your relationship. Red rubies express passion while blue sapphires stand for loyalty.

Should I purchase an antique wedding ring?
To satisfy the "something old" part of the bride's wedding mantra, choose a vintage wedding ring. If grandmother meant for you to have her cocktail ring or wedding band anyway, you can use it for an engagement ring. Many jewelers sell high-quality estate jewelry. These older rings often feature the best craftsmanship as well as one-of-a-kind designs. And many vintage rings can be updated. Check with a jeweler to replace gemstones with diamonds or older stones with modern cuts.

How can we make the most out of a limited budget?
Many fine engagement rings are available for any budget. Consider bands that have pretty settings for smaller diamonds, such as three-stone rings or eternity bands. If you have your heart set on an eye-catching center diamond, look at stones that are a little smaller than a whole carat. Finally, look to the future. Purchase a high-quality band with a cubic zirconia stone or semiprecious gemstone now and have the setting fitted with a diamond later.

Do I need to purchase the wedding band at the same time as the engagement ring?
No, it is not imperative that the bride's wedding band be chosen at this time. Generally, couples shop for their wedding bands together, and there are not many rules for wedding band shopping. For example, the couple's wedding bands do not need to match. Some couples prefer to have matching bridal rings, and many handsome sets are available, but choosing different rings won't violate wedding etiquette and custom. Women's and men's wedding bands are available in many designs, and each person can find a ring she or he will be happy with for many years. Order the wedding rings at least two months before the wedding. This will ensure that you will have your rings in time to make adjustments if necessary.

Buy Engagement Rings
Back to Guides Directory