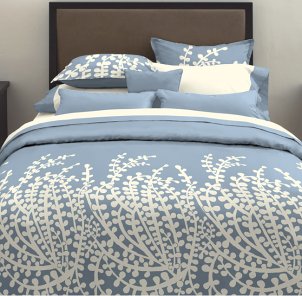 If you have a duvet, make sure you have it covered. Duvet covers are essential for duvet owners, and they're a great option if you're considering new bedding. They're one of the most popular bedding options, and so it's smart to brush up on your duvet cover knowledge before making any purchases for your bedroom. Take a look below for some of the most frequently asked questions about duvet covers.
Questions about Duvet Covers:

What does a duvet cover do?
Think of duvets as the blanket versions of pillows; they're essentially the filling to your bed comforter, which means that, like pillows, they need covers to be complete. That's where duvet covers come in. After you've found the right duvet, you'll want to find a cover for it.

Are duvet covers available in different styles?
Duvet covers aren't just made in a wide range of different styles; they're made from all kinds of fabrics and colors as well. Whether you want a classic in cotton or something chic and modern in microsuede, you're sure to find a duvet cover to fit your style and taste.

Can I wash duvet covers?
Like pillowcases, the large majority of duvet covers are washable, which is convenient because duvets themselves are usually not. Duvet covers typically come with snaps, buttons or ties for easy removal and cleaning. Before washing your duvet cover, make sure to check the washing instructions.

What sizes are duvet covers available in?
Duvet covers are manufactured in all bed sizes. From twins to California king duvets covers and everything in between, you can find duvet covers for whatever size bed you seek to outfit.

What are some of the benefits of duvet covers?
One of the greatest benefits of duvet covers is the choices they provide to you. Once you own a duvet, changing its look is easier and more cost-effective than purchasing a new comforter. They also help save space, as several duvet covers can fit in the space taken by a single comforter. The time and energy saved washing duvet covers, in comparison to dry cleaning comforters, is helpful as well.

Buy Duvet Covers
Back to Guides Directory