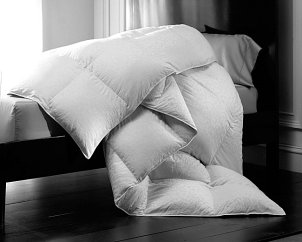 Warm in the winter and cool in the summer, down comforters offer the ultimate in comfort and insulation. Down is the soft, fluffy growth found under the outer layer of breast feathers on geese and ducks, insulating them from extreme temperatures. Down is lighter and more flexible than feathers, which is why it's so popular for use in down bedding. When used to fill comforters, it gives you the ultimate in year-round comfort. If you want all the facts about down comforters before purchasing one, check out the most frequently asked questions about down comforters.
About Down Comforters:

Should I cover my down comforter?
Ideally, your down comforter should be covered in 100 percent cotton fabric with a thread count of 200 or more. The higher the thread count, the tighter the weave, meaning that down or feathers are less likely to escape. Different stitching patterns regulate the shifting of down in your down comforter. Sewn-through designs help keep lighter weights of down stable for consistent warmth. Baffled construction has fabric walls sewn between the top and bottom cover. These walls keep the down from shifting while still allowing it to fully loft. This fluffy, full down offers optimum insulation.

How do I care for my down comforter?
It's important to protect your goose down comforter from dirt and shield the seams from excess wear. Use a duvet cover or make one of your own using a pair of flat sheets. It also helps to periodically shake your comforter to fluff the down. This lofts the fill to prevent matting and provides better insulation. Cleaning down comforters is an important step that often gets overlooked. Just remove the duvet cover and, weather permitting, hang it out on the line to let it air out. Dry clean it once every three to five years, and your down comforter should remain in great condition.

How are down comforters packaged for shipping?
Down and feather-filled products are packed tightly during shipping. It is recommend that upon receipt, you remove down bedding from its packaging, fluff gently and allow several hours for the items to recover their full loft. In addition, being sealed in a plastic packaging sometimes causes the scent of these natural products to concentrate to a disagreeable level. A few hours of airing usually removes the odor.

Buy Down Comforters
Back to Guides Directory