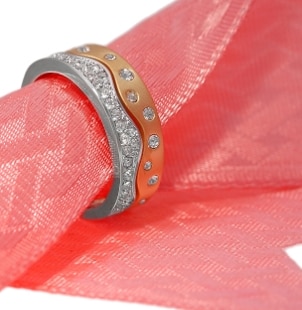 Sparkly jewelry selections can grab the attention of almost any woman and plenty of men. Wearing glittery gemstones and gleaming jewelry is a great way to show off your style, vamp up an outfit, catch someone's eye or tell the world of your romance. Cubic zirconia jewelry gives you the sparkle of gorgeous gems without the high price tag. Cubic zirconia jewelry is not cheap jewelry; it incorporates beautiful and durable cubic zirconia gems. Designer jewelry and fashion jewelry pieces are often embellished with cubic zirconias. These investment-quality luxury jewelry selections make wonderful gemstone gifts and are fabulous engagement ring choices. If you are shopping for gemstone jewelry and designer jewelry, allow us to help you avoid buying cheap jewelry with our tips about lavish and stunning cubic zirconias.
Questions about Cubic Zirconia Jewelry:

What is a cubic zirconia?
A cubic zirconia is a lab-created gemstone. It is zirconium oxide in cubic form and the crystal clear stone resembles diamonds. It took many years to invent cubic zirconias; the process lasted from 1892 until 1930 when the first cubic zirconia was introduced. It wasn't until the 1970s, however, that the cubic zirconia, sometimes abbreviated as CZ, was first used in fashion jewelry. Since the 1970s, cubic zirconias have been the leading diamond-alternative gems for rings, bracelets, necklaces, earrings and other types of gemstone jewelry and accessories. Today, cubic zirconias are available in a myriad of sizes and a rainbow of hues, from perfect white stones to bright red gems.

What types of cubic zirconia jewelry are available?
Cubic zirconias can be found in all types of jewelry, including rings, necklaces, earrings, bracelets, cuff links, charms, pendants, body jewelry and even handbag embellishments. Cubic zirconias are lovely in engagement rings, stunning in tennis bracelets and eye-catching in large necklace pendants. Large, flawless cubic zirconias are great centerpieces for cocktail rings, and colored cubic zirconia gems look fabulous in birthstone jewelry.

Is cubic zirconia jewelry a good value?
Cubic zirconia jewelry is an impressive value. Because cubic zirconias are created in a lab, gorgeous stones are common, but they are also valuable. Cubic zirconias rate an eight on the Mohs Scale of Mineral Hardness, which is a scale from one to ten. When your cubic zirconias are set into quality metals, such as gold, sterling silver, titanium or platinum, they will retain their value and appearance for decades. Most pieces of quality cubic zirconia jewelry will last a lifetime with the proper care.

Should I purchase cubic zirconia wedding jewelry?
Cubic zirconias are perfect for engagement rings and wedding bands because they look like flawless diamonds and are incredibly durable. Many couples choose cubic zirconia wedding jewelry because they are concerned about the environmental and cultural impacts of purchasing diamonds, and they benefit from saving money in the process. Cubic zirconias are wonderful for wedding jewelry because large, perfect stones are available. Big, flawless diamonds are incredibly rare and may not be available or attainable for your stunning solitaire engagement ring.

Buy Jewelry
Back to Guides Directory