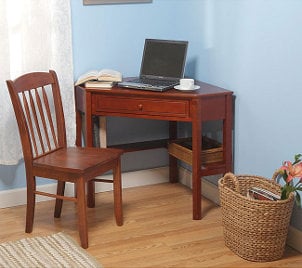 It's time to buy a computer armoire, but there are so many choices! Do you want a desk, a cabinet, something huge, something small, something with drawers? By deciding which features and functions are important to you, you'll be able to choose a computer armoire that's the perfect complement to your other home office furniture. Keep reading for the answers to all your computer armoire questions.
Computer Armoire Information:

How big should my armoire be?
Computer armoires come in a variety of sizes. Choose one that's big enough to hold your computer equipment but not so big it makes your room feel overstuffed. Most computer armoires measure between 40 and 60 inches wide by 58 to 78 inches (or taller) high. Measure your room before you begin shopping so you know what size you need.

What finish should I choose for my computer armoire?
Choose a color that complements furniture you already have in place. If your home office is full of blonde wood, you don't want a giant ebony armoire lurking in the corner. On the flip side, if you have a study full of rich mahogany furniture, a light armoire might not blend.

Is an armoire sturdy enough for a computer and more?
Most commercially made computer armoires are designed to hold a monitor and associated gear, such as a printer and computer tower. Armoires crafted of wood are likely sturdier than those featuring laminate sides, but full wood construction also makes the furniture heavier and more difficult to move. Consider how much equipment you need to house and choose an armoire with a corresponding sturdiness.

Where can I put a computer armoire?
Computer armoires can be put anywhere you can imagine. Traditionally used in home offices and studies, they can be converted into storage for crafts, linens, cleaning supplies and even kitchen goods. Use your imagination and put your armoire to work where you need it most.

Will I have to assemble my armoire myself?
Most armoires, due to their large size, are delivered unassembled. Don't let this scare you off; quality furniture should come with detailed instructions and any specialty tools (like an Allen wrench in a specific size) required for assembly.

Buy Desks
Back to Guides Directory