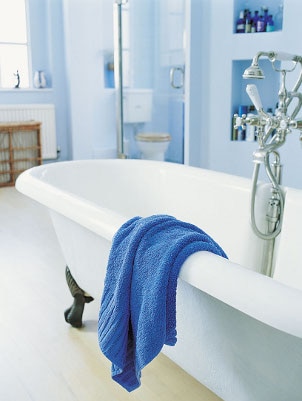 Old-fashioned bathrooms with classic style fixtures can give you a feeling of timeless elegance and luxury. Claw foot tubs are especially iconic. There's something about soaking in a large bath tub that just makes time slow down. If you're considering a clawfoot tub for your bathroom, a bit more information may be necessary for an educated choice. Here are some answers to frequently asked questions about clawfoot tubs that will help you make plans for your amazing bath remodel.
Clawfoot Tub Questions:

Are there different types of clawfoot tubs?
Clawfoot tubs have various features and styles to choose from. Single- and double-slipper clawfoot tubs feature a raised lip on one or both ends, allowing you to recline more comfortably while bathing. Double-ended tubs are rounded on both ends, whereas classic clawfoot tubs are flat on the end where the faucet is located. Some of these features are combined in different bathtub styles.

What are clawfoot tubs made from?
Originally, old bathtubs were constructed from cast iron, which made them durable but heavy. Newer clawfoot tubs are made with acrylic, fiberglass and other lightweight materials that are still durable, but much lighter and better able to prevent heat loss.

Do these tubs require special plumbing?
A claw foot tub may or may not have pre-drilled holes for a faucet. And since they are raised off of the ground, these tubs require a drain pipe to connect to the floor drain. Many tubs will include the faucet and drain hardware when you buy. Either rigid pipe fittings or flex hoses can supply the faucet with water.

Can I drill my own faucet holes in the tub?
It's not recommended that you drill your own faucet holes. The tub may be made of several layers of material, which might crack if you try to drill through them. If your bathtub wasn't designed with pre-drilled holes, it may just be simpler to use an exterior faucet assembly over the side or end of the tub.

Can an old clawfoot tub be resurfaced?
Yes. With the proper safety equipment and preparation, you can resurface an old tub with refinishing compounds and a spray gun. Typically, you'll treat the surface with an acidic compound, apply a primer and spray on the new enamel.

Buy Claw Foot Tubs
Back to Guides Directory