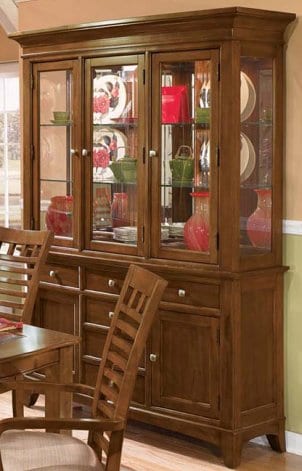 China hutches, also known as china cabinets, are the perfect dining room furniture to store and display antique plates and bowls used only for special occasions. If you're considering purchasing a china hutch for your collection, consider the many aspects of available cabinets. With choices such as mirrored backs, plate grooves and safety locks, you're sure to end up with the best hutch for your china collection. Below, you'll learn answers to the most frequently asked questions about china hutches.
Frequently Asked Questions:

Why do some china hutches have mirrored backs?
Some china hutches are used more for displaying curios such as china figurines than plates and bowls. In these cases, mirrored backs are used so you can view the objects from all sides. Consider a china cabinet with a mirrored back if you're planning to display plates that have designs on both the front and the back. If your china is only decorated on its face, a hutch with wood backing is acceptable.

How much room do china hutches take up?
The size of your china cabinet depends on your own china collection. Before you purchase this type of furniture, assess your collection to ensure that everything can fit inside the hutch you choose. Once you find one that can accommodate your collection, note its dimensions. Typical china hutches are about 2 feet deep and 6 feet wide.

What are some important features of a china hutch?
Because china hutches are primarily used for displaying antique plates, the best hutches have plate grooves in the shelves. These grooves are used for standing plates upright so they are easy to see. When purchasing a china cabinet, make sure that it has this feature. Most china hutches also have drawers and additional storage underneath the main display area. Drawers are an ideal place for storing silverware that goes along with the collection. Keep large items, such as pitchers and serving dishes, in the cabinets underneath the display section.

Should I choose a china hutch with a lock?
Some china cabinets come with a lock on the doors. Locks are essential for families with small children who may get into the expensive antique china if left to their own devices. Consider what you may use your china hutch for in later years. If it ends up as a liquor cabinet or a place to store expensive collectibles, a lock may deter thieves.

Buy Dining Room and Bar Furniture
Back to Guides Directory