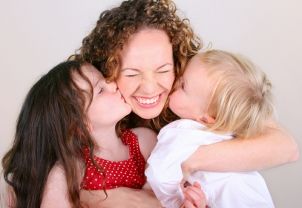 Whether you need new children's clothing for the school year or durable kids' clothes as your sons and daughters continue to grow, you probably have a few concerns about purchasing children's clothes that will fit well and last. Fortunately, this guide provides you with tips on purchasing children's clothing, including baby clothes and toddler clothes, and getting the right fits online. Read on for answers to your frequently asked questions about children's clothes.
Buying Children's Clothing:

How can I get the most use out of my child's clothing?
Follow the care instructions on the tag. Most children's clothing should be machine-washable and have no problems in a dryer. Look at descriptions of kids' clothes online for basic care requirements so you know beforehand what you're getting. Make sure you also buy clothing, especially toddler clothes, in colors and patterns your kids will like so that they'll wear them frequently before they outgrow them. When you purchase girls' dresses and other dressy girls' clothing or boys' clothing, look for styles with extendable hems or waistbands so you can adjust the clothes as your children grow older.

Are there any types of baby clothes I should avoid to protect my baby?
Newborns have weak necks, so you should avoid pullover newborn clothing or be sure the neck isn't too tight -- snaps along one shoulder are the simplest solution to this problem. Baby clothes with ties and strings should also be avoided, especially as your baby gets older and likes to grab objects. Also, look for newborn clothing with wide necks and front closures so you can easily dress and undress your little one.

How can I make sure the clothes I purchase online will fit?
Measure your children before you buy girls' clothing and boys' clothing, and then refer to this children's sizing guide. Also, check out your kids' closets and look at the sizes and styles that fit them well. You'll know which clothes will work best.

Buy Children's Clothing
Back to Guides Directory