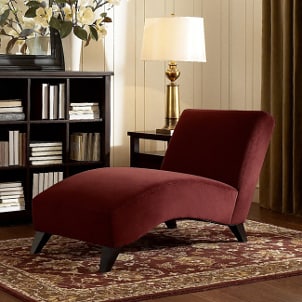 When you're ready to give your living room an update, look to fresh furniture as a place to start. Living room furniture comes in many styles, and one at the front of the trends is chaise furniture. The best known of the chaise family, chaise lounges, is available in every color and fabric imaginable, so you can find the perfect chair for your home decor.
Questions about Chaise Furniture:

What is chaise furniture?
Think of a chaise lounge; that's the basic idea behind chaise furniture. Chaise furniture is designed to provide a place to relax. Luxurious in size, it is essentially furniture that is long enough to support the legs.

What is a chaise lounge?
A chaise lounge is a chair designed to provide support when the person using the chair is lying down. It includes a supportive back that sometimes wraps around the side and features an extra-long design so the feet can be put up for maximum relaxation.

Where can I use chaise furniture?
Chaise furniture is ideal for use in a living room; it provides extra seating and a sense of luxury. A chaise lounge, when crafted of appropriate materials, can also be enjoyed poolside or on a deck or patio. Imagine yourself stretched out by the pool, enjoying your favorite beverage, feet up and head back. Now picture yourself stretched out comfortably in your living room -- fuzzy pants on, popcorn in a tub and a movie on TV. That's where you can use a chaise lounge.

What is a chaise lounge made of?
The living room version of the chaise lounge most often features a frame of either metal or wood. Wooden frames offer a more classic look, while a metal frame brings to mind a more modern decor. Once you have the frame sorted out, you can choose any kind of covering you want. Consider a rich tapestry for your study, comfortable corduroy for a family room or weather-resistant mesh for outdoor use.

Buy Chaise Lounges
Back to Guides Directory