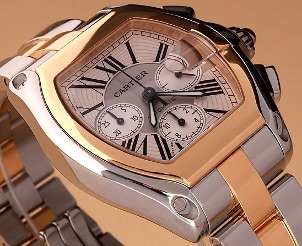 Ever since Cartier created the very first men's wristwatch for a pilot in 1904, the company has been a leader in the watch business. Cartier watches are luxury timepieces, and men's watches and ladies' watches from Cartier are meant to be a decadent investment. If you are looking for a fabulous and fashionable designer watch, consider Cartier watches. Our facts about Cartier and tips about buying designer watches can help you buy a men's watch or women's watch that you will truly love.
Questions about Cartier Watches:

What is the history of Cartier watches?
Cartier was established in 1847 in Paris. After creating the first men's wristwatch in 1904, Cartier designed the tank watch in 1917. The Cartier tank watch was inspired by war tanks, which were just being introduced for the first time. By 1907, Cartier had established branches in New York City, St. Petersburg and London. Cartier has always produced men's and women's watches that match the style of the era and are also versatile and timeless.

What Cartier watch styles are available today?
Cartier prides itself on designing men's watches and ladies' watches with intricate luxury styling. Cartier watches today can be worn with casual or dressy ensembles, and many fashions are available to suit a variety of tastes. Most modern Cartier watches are made of stainless steel or gold, and many are embellished with diamonds. Cartier tank watches are still popular, and the classic style offers clean lines and simple styling. Choose a Cartier watch that you will want to wear with everything in your closet.

Do Cartier watches have any special features?
Cartier designs a variety of watches with function in mind. Chronograph watches are available from Cartier for both men and women, and these watches are perfect for sports enthusiasts and athletic individuals. Cartier also offers automatic watches. These watches never need a battery, and they never need to be wound manually because they are wound through the motion of the wearer's wrist.

What, besides watches, does Cartier design?
In recent years, Cartier has become famous for its fabulous luxury jewelry. Engagement rings, necklaces, charms and men's jewelry are some of the popular Cartier pieces. Cartier also designs a line of gorgeous handbags and wallets with impeccable styling. Pens, jewelry boxes, scarves and fragrances are also available from Cartier.

Buy Cartier Watches
Back to Guides Directory