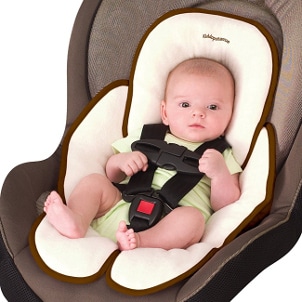 A car seat is one of the most important pieces of baby gear you can buy. Car seats protect your baby while riding in the car, much like seat belts and air bags protect you. When it comes to your children, you want to protect them and keep them as safe as possible, and that means finding out all you need to know about car seats. Here you'll find the answers to some of the most frequently asked questions about car seats to help you make the best decisions when purchasing and installing a car seat.
Questions about Car Seats:

Why is proper installation so important?
Car seats are designed to keep your baby as safe as possible while riding in the car and during car accidents. Baby car seats can only work properly, however, if they are installed properly. A car seat that is not installed correctly can slip, slide, jolt or even break loose during a car accident. It's important to always follow installation instructions and make sure your baby safety gear is properly and securely installed in your car.

Why do infants need to sit rear-facing?
Rear-facing car seats better protect the neck, head and spine of babies in an auto collision. Because infants don't have fully developed and strengthened muscles in the neck and spine, it is important that the head and neck are always supported, especially in an infant car seat. In the event of an auto accident, a rear-facing car seat will distribute the force of the impact around and away from the head and neck. Babies should ride rear-facing until they are at least 12 months old or until they exceed the maximum weight restrictions of the car seat.

What is LATCH?
LATCH stands for Lower Anchors and Tethers for Children. A LATCH system allows you to attach your LATCH compatible car seat to two anchors at the base of your car's back seat. LATCH anchors prevent car seats from sliding or jolting forward in an accident or even when you break abruptly. Anchors are used in addition to seat belts, not instead of, in all LATCH compatible car seats, including infant and toddler car seats, as well as rear-facing and front-facing car seats and booster seats.

What is the purpose of a tether?
Many LATCH compatible cars and car seats are designed for use with a top tether. The tether secures the top of the baby car seat to your car's seat, keeping the upper portion of the car seat from jolting forward. They are designed to work with the LATCH system, but not all LATCH compatible baby car seats have or need a top tether. Many car seats are designed to prevent the top of the car seat from moving forward without a tether, but many parents feel safer using a child car seat with a top tether.

Why should car seats be placed in the back seat?
It is recommended that all child car seats and booster seats be installed in a car's back seat to keep babies as safe as possible. While car seats technically can be placed in the front seat, the risk of serious injury or death is significantly increased in the front seat. The front seat is less protected in collisions than the back seat, and front seat airbags can seriously harm a baby. To keep your baby as safe as possible in the car, install your car seat in the rear seat.

When can a child sit in a front-facing car seat?
Children can move to a forward-facing car seat when they are a minimum of 12 months old and 20 pounds; however, the longer your child can stay in her rear-facing car seat, the better. Many rear-facing car seats are designed to accommodate children up to 30 pounds to give them better protection for longer. You should, however, never exceed the maximum weight restrictions of your car seat. Once your child has met the maximum weight, it is time to transfer to a forward-facing car seat. Convertible car seats can convert from a rear to front-facing car seat along with your child, and because they have higher weight limits, you can usually leave your baby rear-facing for longer in a convertible car seat.

Buy Car Seats
Back to Guides Directory