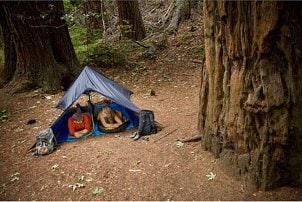 When camping, it is very important to be prepared for any situation. This can make shopping for camping gear and outdoor equipment a little overwhelming. You don't want to forget anything, but you also want to pack light and keep the trip fun and simple. This quick guide will answer all of the questions you have about camping gear and outdoor supplies. This guide also provides you with a simple camping checklist, making it easy to buy and use camping supplies and outdoor gear.
Questions about Camping Gear:

Which pieces of camping gear are essential?
A few basic pieces of camping equipment are necessary for a safe and comfortable camping trip. Start with a tent. Tents are available in many sizes and materials. Larger tents are comfortable, but they may be too heavy for backpackers. Sleeping bags are also essential. Down sleeping bags offer the most warmth, while synthetic sleeping bags are more affordable and are also machine washable. When considering your camping checklist, don't forget about cooking gear. Camping supplies that provide you with a hearty meal vary greatly. Roasters and grills allow you to prepare simple meals, while camp stoves give you more elaborate options. Dutch ovens provide you with a fun way to make casseroles and cakes. These basics will get you out and camping, but you can always add camp chairs, hammocks, hiking equipment, mattresses or cots and other camping equipment and outdoor gear to your collection for a more comfortable and worry-free experience.

What should I have in my first-aid kit?
Don't forget your first-aid kit. If you or another member of your camping or hiking group is injured in some way, you will need a few basic supplies to be better prepared for rendering aid. These basics are listed on Ready.gov:

Two pairs of latex or other sterile gloves

Sterile dressings

Cleansing agent or wipes

Antibiotic ointment

Burn ointment

Adhesive bandages in a variety of sizes

Eyewash solution

Thermometer

Prescription medications and medical supplies.

Cell phone or extra cell phone battery

Scissors

Tweezers

Bug spray

Sunscreen

Nonprescription drugs

Pet supplies

How do I break in my hiking boots?
To break in hiking boots that you are going to be tramping around in for many miles, try a few simple steps. First, wear your boots for short periods of time in your house. This will help you decide which socks will cushion your feet the best. Lace your boots tightly so you will be wearing them the same way in the house as on the trails. After you've worn your hiking boots around the house for a while, and they seem to fit comfortably, wear them while running a few errands around town or in the yard. Don't slack when breaking in your hiking boots. Remember that you will be wearing these on a hike, possibly with the weight of outdoor supplies on your back.

Buy Camping Gear
Back to Guides Directory