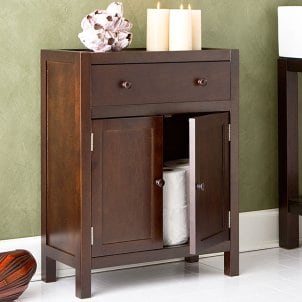 One of the most versatile types of furniture is the cabinet. Cabinets not only increase storage space; they bring storage and style to the rooms they inhabit. If you're searching for a great new cabinet, take a look below to learn answers to some of the most frequently asked questions about cabinets.
Frequently Asked Questions:

I'd like to buy a cabinet, but I don't have a lot of space. What should I do?
Furniture manufacturers aim to please all cabinet buyers, and they realize some of those buyers don't live in castles. If you don't have the room to fit an enormous cupboard cabinet, there are plenty of small, compact cabinets available. Corner cabinets are fantastic for making the most of your space, as corner space is often not effectively utilized. Also, a cabinet can take the place of other furniture, such as bookcases and bookshelves, which means they can actually help create space by eliminating unnecessary furniture in your home.

How do I maintain a cabinet?
This depends on your choice of material. If you choose a wood cabinet, you will want to take care of it with quality wood polish and cleaner. Make sure to select the right chemicals, as wood stains react differently to different cleaners. If you pick a metal cabinet or glass cabinet, the best way to keep them looking new is use of a streak-free cleaner and a soft towel.

Where should I place a cabinet?
Cabinets are manufactured for a long list of purposes in a variety of rooms, kitchen cabinets being the most well-known. The five other places you most often find cabinets, however, are living rooms, bedrooms, dining rooms, home offices and, of course, bathrooms.

Why not buy my cabinet locally and save on shipping?
By looking for a cabinet online, you can avoid the headache of huge furniture stores and pushy salespeople. The selection online isn't limited to what can fit in one showroom, so you'll be able to find the cabinet to suit your style. Plus, purchasing online means you may be able to avoid delivery charges and, often, even shipping costs, which could be a huge money saver.

What materials are cabinets made of?
Cabinets are constructed from four major materials: wood, metal, glass and particle board. When you're looking for a cabinet, consider the practical and aesthetic characteristics you'd like yours to have and then select a material.

View All Furniture
Back to Guides Directory