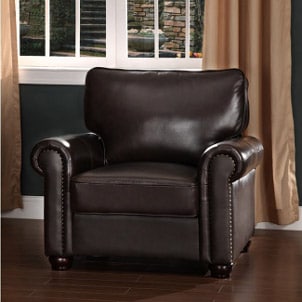 Leather armchairs cultivate a sophisticated and classic ambiance in any home. Many first-time buyers are intimidated by this seemingly overbearing piece of furniture. Buying a leather armchair is actually quite easy. Here are a few frequently asked questions about buying a leather armchair.
Buying a Leather Armchair:

Why should I buy a leather armchair?
First of all, it will look great no matter what room you put it in. Leather armchairs are well known for their timeless style. Another popular selling point is the fact that leather is a very durable fabric and will last for many years if properly cared for.

How much care does a leather armchair require?
Leather armchairs don't require heavy regular maintenance. Be sure to vacuum and dust your leather armchair on a regular basis to keep your leather armchair looking nice and feeling new. Make sure you take the time to wipe it down with a dry or slightly damp cloth. If it is situated in direct sunlight, then use leather conditioner to keep it moisturized. This will keep the leather from cracking and peeling.

Where do I put my new leather armchair?
Leather armchairs are suitable for almost every room except the bathroom. Water causes heavy damage to leather, and it can be expensive to restore water-logged leather. Instead, try a pair of leather armchairs in your library or study. A big leather armchair also makes a classy addition to your living room or den. For additional comfort and style, be sure to put a leather armchair in your bedroom for a nice reading or studying nook. When deciding where to put your leather armchair, make sure you keep your chair away from heat sources, such as vents, heaters and fireplaces. Leather doesn't do well in excess heat or light. If at all possible, keep your leather armchair away from direct sunlight. Heat and sun cause your leather armchair to crack and fade. If you can keep your leather armchair away from these things, then you're sure to have a long-lived leather armchair.

What colors are available?
There are many different color options for leather armchairs. You can get black, dark brown, light brown, white, red and many other colors. You will easily find a match for your home decor.

What happens if I accidently scratch or stain my new leather armchair?
Little damages are a normal part of furniture's life. Leather cleaning kits are available for small home repairs. If you spill something on your leather armchair, be sure to clean it immediately. Blot only! Wiping the stain will only grind it deeper into the leather. In the end though, sometimes it's good to remember that abuse and scuffs can add character to a leather armchair and actually improve its appearance. If you still can't get the stain or scratch to go away, contact a leather restoration company and let the professionals handle it.

Buy Leather Chairs
Back to Guides Directory