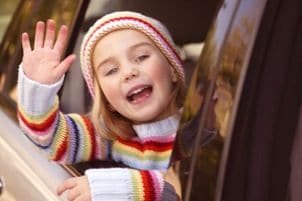 Moving into a booster car seat is an exciting time for a child. Finally, they are able to use the adult seat belt, and moving out of the "baby" car seat is a milestone that marks maturity and growth. When your child is ready to move to a booster car seat, there are a few facts that you will want to consider in order to ensure that he is safe and secure in your vehicle. Use our frequently asked questions to choose the right booster seat and use it safely.
Frequently Asked Questions:

What is a booster seat?
A booster seat is a car seat that is designed to position children so that they can use the adult safety belt in a car. The seat "boosts" them up so that the seatbelt is positioned properly on their bodies. Proper seatbelt position is essential in the event of a crash, keeping your child secure and minimizing seatbelt injury.

When is my child ready to move into a booster seat?
Children need to meet several criteria before they can move into a booster seat. First, you will need to consult your state laws for age, height and weight requirements. Each state has its own criteria, so be sure that you are following the requirements for your area. Once your child reaches the legal requirements, consider the weight and height guidelines outlined by the manufacturer of the child car seat. Finally, be sure that your child is able to sit in the proper riding position for the entire car ride.

What is the difference between a regular booster and a high-back booster?
As long as your car has appropriate headrests, there is no difference between a regular booster and a high-back booster. If your car does not feature headrests in the rear seat, a high-back booster helps protect against whiplash in the event of a crash.

What is a convertible booster?
Some forward-facing child car seats feature five-point harnesses for younger children. When a child outgrows the harness limits, these seats convert to a booster seat and work with the adult seatbelt. Some high-back car safety seats can convert into standard boosters with the removal of the back panel.

How long does my child need to use a booster?
Once your child can use the adult seatbelt in the proper position, he can safely ride without a booster seat. You will want to consult state laws when you feel that your child is ready to graduate from a booster seat. Many states have age requirements for booster seat usage.

What features do booster seats offer?
Some car safety seats have extra padding for a comfortable ride. Cup holders, fancy patterns and designs, and adjustable arm rests are also available. Some high-back boosters also feature side-impact protection and wings around the head to ensure comfort and safety.

Buy Booster Car Seats
Back to Guides Directory