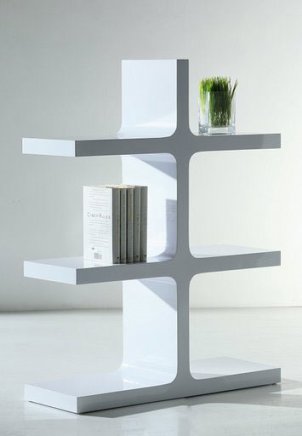 No home is complete without a bookshelf. Bookshelves and bookcases are both beautiful and handy. They allow you to organize your books and knick-knacks in eye-pleasing and convenient ways. If you're searching for a new bookcase, take a look below to learn answers to some of the most frequently asked questions about bookshelves.
Frequently Asked Questions:

How can I be sure a bookshelf will withstand the weight of my books?
It's smart to question bookcase strength before you make a purchase. However, if they're well-constructed, bookshelves made from particleboard or MDF will stand rigorous weight loads. Be aware of the material your bookshelf is made of and be sure to use fasteners intended for the material. While thin-shank, wide-thread screws are ideal, regular wood screws can blow out their thread in particleboard or pull apart the laminate grain in MDF. In addition, if you're moving your furniture any great distance, save yourself and your furniture the stress by disassembling and reassembling the bookcase.

Should I worry about the phrase, "Some assembly required?"
Not at all. Read the instructions all the way through before starting. Then, read them again as you assemble your furniture. Give yourself enough room to assemble your furniture on the floor. You should have at least two feet of clearance on each side. Use the right tools. If you don't have the right tools, borrow them. Prepare your assembly site with a tarp or, better yet, build in the garage so you can easily clean up afterward. Just make sure you can fit your new bookshelves through the doorways between where you assemble them and where you want them to be. Make sure you have all the necessary pieces and organize them according to the order in which you will need them.

How can I be sure my bookshelf will be safe?
Even if your bookshelf is designed to be free-standing, consider securing it with wall anchors. If that's not enough for your weight load, secure it to other pieces with anchors. Keep heavy, oversized books closer to the ground and place lighter material above. Finally, invest in a good footstool to keep all your titles just an arm's length away.

View All Media and Bookshelves
Back to Guides Directory