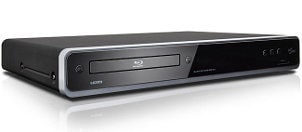 It's the next big change in how you watch movies and store data. Blu-ray technology takes advantage of HDTV technology and high-definition sound. If you've had a chance to see a Blu-ray movie on a widescreen HDTV, you've seen the improved picture clarity and definition. But before you decide to upgrade to a Blu-ray player, you may want some additional information on Blu-ray technology in general.
Frequently Asked Questions about Blu-ray Players:

What is Blu-ray?
Blu-ray gets its name from the blue-colored laser that Blu-ray players use to read Blu-ray discs. Blu-ray discs are similar in appearance to DVDs, but they store more data. Blu-ray players can also transfer video and sound data from Blu-ray discs faster than DVD players can. What this means for consumers is that Blu-ray players produce higher quality video, sound and special features than DVD technology can.

Do I need special cables or equipment to watch Blu-ray discs?
You'll need a Blu-ray player and an HDTV to enjoy Blu-ray movies. Also, you'll want to connect your Blu-ray player to your home theater system or HDTV with an HDMI cable, which carries both high-definition sound and video over a single cable. Without HDMI or another HD-capable cable, the high-quality picture and sound won't make it to your TV or your speakers.

How does Blu-ray compare to DVD?
Blu-ray technology is superior to DVD in many respects. Blu-ray discs carry more data than DVDs, and they produce better picture and sound. Blu-ray discs provide more room to store special features.

Can I watch my old DVDs on a Blu-ray disc player?
Yes. Blu-ray players will play your old DVDs and even up-convert them to 1080p resolution, meaning the player will artificially increase the resolution to simulate a high-definition picture.

Can I get a Blu-ray disc player for my computer?
Yes. More and more Blu-ray drives, or BD-ROMs, are coming onto the market, allowing you to use your PC as the ultimate entertainment machine. Blu-ray discs also have implications for data storage and, eventually, video games and computer programs.

What are some special features of Blu-ray technology?
Some Blu-ray players feature online connectivity, which allows you to download online content for your movies and interact with online communities and features via your TV and Blu-ray player. You can also skip to any part of a Blu-ray movie at any time -- manipulating menus while the movie is playing instead of stopping and returning to a root menu.

Buy Blu-ray Players
Back to Guides Directory