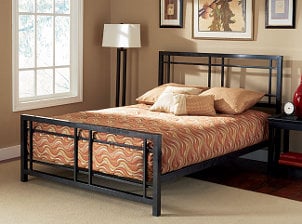 If you're ready to buy a new bed frame, you might be feeling overwhelmed with choices. There are a few simple questions you can ask yourself to determine which type of bed frame is best for you. Keep reading to find the answers to frequently asked questions about queen bed frames, king bed frames and more
Frequently Asked Questions:

What size bed frame should I get?
To determine what size bed is best for you, consider your sleeping situation. If you have a small bedroom, you might want to commit only to a queen-size bed frame. If you're taller than average, the longer California King might be right for you. If you share your bed with pets, a partner or just like to spread out in your sleep, then consider a king-size bed frame.

Are King and California King basically the same thing?
The king-size and California king-size bed frames are similar, but not exactly the same. A standard king-size bed is 76 inches wide by 80 inches long (4 inches wider and 4 inches shorter than a California king). California kings measure 72 inches wide by 84 inches long (4 inches longer than a standard king).

What are a headboard and footboard?
Headboards attach to the head of your bed. Traditionally used to keep pillows on the bed, they've since evolved into decorative statement pieces. Footboards are less common than headboards; while most frames incorporate a headboard, only specific frames can accommodate a footboard. Footboards often serve as decorative extensions of the headboard and to keep blankets and comforters from slipping off the foot of the bed.

What is a platform bed?
A platform bed is one that has a system of slats that are supportive but also somewhat flexible. The slats provide enough structure that a box spring is no longer necessary. Platform beds provide a lower profile than traditional beds and are commonly used to create a contemporary look in a bedroom. Traditionally very simple, the newer styles of platform beds can include a headboard, footboard or even a canopy.

What accessories do I need?
For maximum comfort, you'll need to accessorize your new bed with blankets, comforters and quilts. The combination of covers you use is up to you and will probably vary with the seasons and changing temperature of your bedroom. To make your bed more inviting or add some color to your bedroom, you can add throw pillows or a bed scarf across the foot of the bed.

Buy Bed Frames
Back to Guides Directory