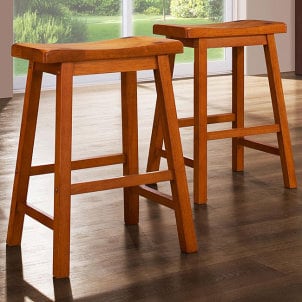 Introduce a casual atmosphere to your countertop or bar with a set of bar stools. Whether you need additional seating or want to create a fun, new gathering place in your home, bar stools can augment every room in your home. Before you find the perfect barstools for your home, consider some common questions that might help you on your way.
Questions about Bar Stools:

Will metal bar stools scratch my floors?
Because of the frequency of bar stools and counter stools being pulled out and pushed in, the possibility of your floors becoming scratched is moderate. However, there are ways to combat this. Swivel bar stools allow a user to turn the stool and sit down, even in tight spaces. Some swivel bar stools or bar chairs don't even touch the floor but are attached to the countertop or bar. Many barstools and counter stools will have some form of protective covering over the leg base. If you purchase bar stools without any covering, adding a foam or rubber base is very easy and inexpensive.

How do I know the right height for my bar stools?
Counter and kitchen bar stools come in many different heights. Measure the height of your countertop or bar and plan on leaving 10 to 13 inches from the bottom of the counter or bar and the top of the barstool. If your bar stool or bar chair has armrests, make sure to consider their height as well.

How can I make my wooden bar stools last longer?
Wood furniture, including wooden bar stools, should not be exposed to excessive humidity or dry air. Wood exchanges moisture with the surrounding air; dry air absorbs the moisture from the wooden bar stools and causes them to shrink, yet when the humidity in the air rises again, the bar stools will absorb the moisture from the air and swell back up to their original size. These are natural changes that happen to all wood furniture. If you have a humid home or one that is very dry, consider using an air conditioner or humidifier to keep your home's levels stable. If you are looking for outdoor bar stools, consider using metal bar stools instead of wood. Avoid placing your stools near heat sources, like fireplaces, stoves, radiators and direct sunlight, since heat can dry out the wood as well.

Buy Bar Stools
Back to Guides Directory