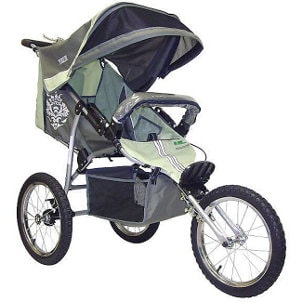 When you're ready to take your little one out in the world you're ready to buy a baby stroller. There are different strollers for different activities -- everything from jogging to casual walking. The answers to these frequently asked questions about baby strollers will help you purchase the stroller that's right for you and your growing family.
Baby Stoller Questions:

What kind of stroller should I get?
There are baby strollers for every activity you can do with a baby. There are jogging strollers, walking strollers, off-road strollers, folding strollers and more. Start by thinking about what activities you want to share with your baby. If you're a runner, then a jogging stroller makes sense. If you prefer a tamer walk in the park, then a lightweight stroller complete with cup holders might be for you.

What's special about a jogging stroller?
Jogging strollers are more rugged than walking strollers and have additional safety features. Jogging strollers should have extra safety restraints on the seat and a hand brake on the handle so they can be controlled on steeper hills. Keep in mind that jogging strollers are often wider than other strollers (for added stability), which can make them harder to maneuver in stores and through doorways.

Is there a special stroller for twins?
If you have twins or multiple children close in age, you might want to consider a double (or even triple!) stroller. These strollers have multiple seats, either side-by-side or front-to-back, so you can steer all your kids in a single device.

What other features can I look for in a stroller?
Popular stroller features include built-in blankets, cup holders, fold-back sun shades and space under the handle for storing diaper bags.

What's the difference between a stroller and a car seat?
Car seats are for use while driving, strollers are for use outside the car. The good news is that many strollers are compatible with car seats. The car seat snaps in and out of a base and in and out of the stroller, so you can easily transfer your baby from one mode of transportation to another. Make sure to check the compatibility of the components before purchase if you plan to buy them separately.

Is there a stroller that works with a bike?
The strollers that attach to bikes are commonly referred to as trailers and come in one-passenger and two-passenger sizes. These specialty strollers can't be used independently, they must be used with a bicycle. Trailers typically have two rear wheels and a mesh cover that zips down for sun protection and safety.

Buy Baby Stollers
Back to Guides Directory