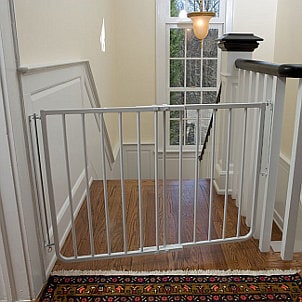 If you have a baby who can move around on her own, then baby-proofing your home is essential. Stairs can pose a major safety risk for children who are just learning to scoot, crawl, walk or run. There are many child gates for stairs that can help keep your child safe. If you are shopping for safety gates for stairs, let us help you find the baby gate or gates that will be right for you and your home.
Questions about Baby Gates:

When should I install baby safety gates for stairs?
As soon as your baby can move around on his own, stairs pose a safety risk. A baby safety gate can be installed anytime within the first few months of your child's life, depending on your preferences and your baby's development timetable. Most child safety gates are intended for children between the ages of six months and two years, but using a baby gate before your child is six months old and after he is two years old can be helpful and necessary in many situations. Watch your infant's development and install child gates as soon as your child is mobile.

What type of safety gate is best suited for stairs?
There are many different types of safety gates available, yet not all of them are ideal for use near stairs. Permanent, wall-mounted safety gates will be the best choice for many parents because these gates are very secure and they have swinging doors that allow adults and older children to easily move through the gates. If you choose permanent child gates, make sure that the gates are installed so that the doors swing away from the stairs for safety.

What features do I need?
A baby safety gate for the stairs should be sturdy and strong. Choose gates made of steel, aluminum or wood for use near stairs. Gates with narrow railing are recommended to keep children from getting caught between the bars. Vertical railings are best because horizontal bars are easy for older children to climb on, posing a major safety risk. In addition to safety features, you can choose among gates with a variety of color schemes and design features to complement the style of your home.

Buy Child Gates
Back to Guides Directory