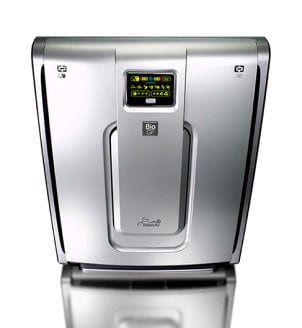 Remove odors and allergens from every room when you buy air purifiers for your home. With ionic air purifiers that target allergens with electric charges and home air purifiers that trap dirt in enhanced filters available, you probably have a few concerns about finding the best air purifiers for your lifestyle and the irritants in your home. Fortunately, this guide will provide you with answers to frequently asked questions about air purifiers.
Questions about Air Purifiers:

How do air purifiers work?
Home air purifiers all work a little differently, depending on how they are built and the allergens they target. A HEPA air purifier, for example, contains a high-energy particle arrester (HEPA) filter that catches air particles which cause health problems; the HEPA air purifier then cycles clean air into the room. Ionic air purifiers, on the other hand, electrically charge air particles with a positive charge; the particles then cling to negatively charged plates in the air purifier. Ionic air purifiers do not use filters at all to clean air. Some portable air purifiers also feature carbon filters that trap gases and odors in the air. You'll want to buy air purifiers designed to catch the allergens that affect you, including pollen, pet hair, dust and smoke, as these may contain different filters.

Why do I need air purifiers?
The best air purifiers can help people with allergies, asthma and other health problems to breathe better and get better sleep. If you live in a particularly dusty area or have indoor pets, you can probably benefit from portable air purifiers, too. Of course, you don't have to suffer from allergies to benefit from one of these appliances, especially a personal air purifier. These tabletop models can filter dust, dirt and even viruses from the air and keep bedrooms clean so you don't have to dust so frequently. A tower air purifier placed in a child's room can protect her from allergens that can cause colds and other sicknesses, too.

Which kinds of air purifiers do I need?
Finding the best air purifiers for your home depends on the size of the rooms you plan to keep them in, the allergens in the air and how many members of your family suffer from allergies or other health problems. A compact allergy air purifier that can be placed on a dresser or nightstand is a great option if only your spouse has allergies, while a tower air purifier can be placed in a family room or other high-traffic area to keep the entire family protected. You may need to buy more than one allergy air purifier if you live in a polluted area or spend a bit more to get a whole-house air purifier installed in your home.

Buy Air Purifiers
Back to Guides Directory