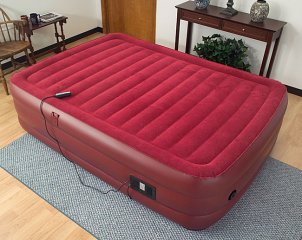 When you have an air mattress on hand, you'll be prepared for a spur-of-the-moment camping trip or for unexpected overnight guests. Sleeping on a high-quality airbed is almost as comfortable as sleeping in your bed at home. Whether you have air mattresses already or are getting ready to buy your first, these answers to frequently asked questions will help you choose the right one and enjoy it for years.
Air Mattress Questions:

What type of air mattress should I get?
The type of air mattress you should get will depend on what you are looking for in an air bed. Any air mattress thicker than six inches should give you plenty of cushioning. Raised air beds provide the ultimate comfort for sleeping, and raised air beds with pillow tops will give you even more comfort and support. If you are looking for just a little extra comfort for backpacking trips, a thin, self-inflating sleeping pad can give you that comfort in a lightweight, compact design that will easily fit in your backpack.

How do I fix a leaking air mattress?
Air mattresses are made from thick plastic that is designed to be resilient and not leak air. However, sometimes leaks and punctures happen. Fixing a leaking air mattress is a simple task. A patch kit usually comes with the air bed. The patch kit should include a piece or two of material, some glue, and a small square of sandpaper. Use the sandpaper to rough up the area around the leak, which will help the glue hold better. Make a complete circle around the hole with the glue and press an appropriately sized piece of the supplied material to the air mattress. Press firmly for as long as the glue recommends.

How do I store my air mattress?
You can take steps to prevent unnecessary holes by storing your air mattress once you're finished with it. Leaving it out can increase its chances of getting ripped or otherwise damaged. If at all possible, keep the original box your air mattress came in. If you no longer have it, use a sturdy cardboard box or a waterproof container. Make sure that you push all the air out of your mattress, so you can roll it up neatly for storage. Making folds or creases in your air mattress can weaken it and cause tears.

Can I use my air mattress outdoors?
Most air mattresses are designed for indoor use, but a heavy-duty air mattress will make a very comfortable bed while you're camping. Place your air mattress on a tarp while you're camping to help to prevent holes and tears.

Buy Cots and Air Beds
Back to Guides Directory