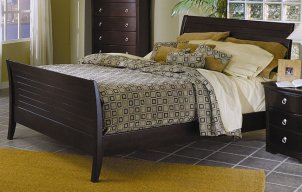 You can find Sleigh beds in several styles, materials and colors to match any room's decor. Whether you are looking for a king-size sleigh bed, a queen sleigh bed or any other size, you'll have plenty of options to choose from. Known for their regal presence, sleigh beds are an excellent choice for a master bedroom. This style was popular in both the United States and France as early as the 18th century, drawing from influences in ancient Roman architecture. Sleigh beds continue to be popular over 300 years later for their timeless, sophisticated look. As you look around for the right sleigh bed, here are some facts that might help you out.
Facts about Sleigh Beds :

Materials: The first sleigh beds were made from mahogany, and today mahogany remains a popular choice. However, sleigh beds are now available in nearly any material used for furniture. Whether you want a wooden sleigh bed or a sleigh bed frame made of steel or other metals or even upholstered with leather, there are a variety of materials to choose from. If it is used to make furniture, chances are it is used to make sleigh beds.

Sizes: Although sleigh beds have become most famous for large, heavy king-size sleigh beds and queen sleigh beds, they are also available in full and twin sizes. The smaller sizes are built to scale and still boast the large headboards and shorter footboards that characterize the sleigh bed style. These sizes are perfect for a small guest room or a child's bedroom.

Styles: The traditional style of sleigh bed is to have high wooden headboards towering over a shorter footboard to resemble a sleigh. Often, they would be curved and decoratively carved; however, as time goes on, there is an ever wider variety of sleigh beds to choose from. In metal, sleigh beds often have head and footboards made from separated, painted rods or decorative metal designs. Some styles ignore the intricate decoration on the headboards in favor of a simplistic blank board that will appeal to minimalists. Sleigh beds come in platform bed frames as well as a regular box-spring bed.

Buy Sleigh Beds
Back to Guides Directory