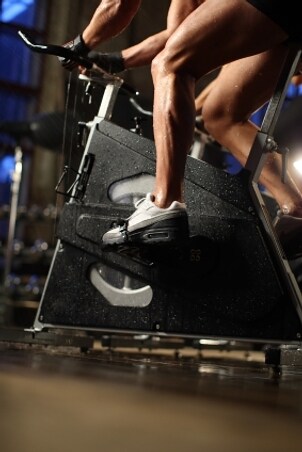 When it comes to personal fitness, exercise bikes are one of the most convenient and effective options available. Exercise bicycles, also called indoor bikes or studio cycles, provide a great workout with much less stress on knees and ankles than outdoor exercise. By itself or as part of a home gym, an exercise bike is a great investment in your long-term health. This exercise bike buying guide will help you figure out how to buy a stationary bike that will fit your needs and total fitness goals.
Buying an Exercise Bike:

A new fitness program: If you are new to a sports or fitness program, you should get a check-up before you begin. Exercise bikes are generally a great way to workout without stressing your joints. Cycling, skating and scooters, water sports and team sports are great ways to get fit. Unfortunately, it gets hot. It gets cold. It rains. It snows. The gym closes. A home gym stationary exercise bike provides a way to workout when you can't exercise outside or when you want to get fit while doing something else, like reading or watching TV.

Upright bikes: This design is an offshoot of a normal street bicycle and is probably the most common style among stationary bikes. With wheels replaced by gears or other mechanics, upright exercise bikes take up less space than their street cousins. An upright exercise bike feels more natural to cyclists, and many experts have concluded you'll get a more intense workout using an upright exercise bike because the stance allows you to put more effort into your ride.

Recumbent bikes: If you have back or balance problems or if you want more padding than an ordinary bicycle seat can provide, check out recumbent bikes. Some feel recumbent stationary bikes make it easier to read or watch TV while working out. The biggest benefit of a recumbent exercise bike is the seat's ergonomic design; many find the large seat, natural position and extension of the legs more comfortable on a recumbent bike than on an upright. They also feel a recumbent stationary bike reduces stress on joints.

Dual-action bikes: Using a dual action exercise bike combines upright exercise bikes with movable handle bars to give the arms a workout. Most exercise bikes emphasize lower body workouts; dual-action bikes give a better total fitness workout.

Exercise bike buying tips: Home exercise equipment gives you greater convenience, consistency and privacy in your workout program than any gym membership. Gym memberships win in the flexibility and variety categories because you have more options, but you will pay for the privilege. Some home gym spinning bike systems also provide a wide variety of exercise options, but these are notoriously high priced. A stationary bike is a great choice for the budget conscious.

Most stationary bicycles are now equipped with on-board computers to provide assistance in customizing exercise routines. Basic computers can track your speed, time, distance ridden, total calories burned and heart rate. More sophisticated computers have programmable resistance levels and workout plans that help you keep your fitness routines at the right fat-burning or cardio-training levels.

Riding a bike to nowhere: Exercise bikes have an advantage over boredom; you can get a basic fitness workout or a real ironman fitness workout while watching a movie or reading a book.
Tips from Overstock.com:

Get some variety: You don't need a complete home gym with every piece of home fitness equipment on the market. However, if you and your spouse like to exercise together, you might prefer a recumbent exercise bike while your spouse prefers an elliptical trainer. You also might like to switch now and then, just for diversity. Likewise, you might need more than one exercise machine to meet your fitness goals; add weights, balls, gym accessories and other fitness equipment to your routine and you'll be feeling pretty good about your health in no time at all. On the other hand, if you aren't a fitness buff, a spinning bike is a good way to get a slice of daily cardio. Either way, an exercise bike is a valuable part of your home gym.

Get the kinks worked out: Everybody overdoes it now and then. When you do, or anytime you want to loosen up after a workout or a long day at work, try some sports therapy. Massage, stress relief and relaxation are all very good things, and the harder you workout, the better they feel.

Buy Exercise Bikes
Back to Guides Directory