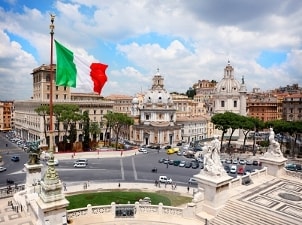 It's no question that Italian imports are noteworthy. Italian food, Italian cars and Italian leather have all earned their spot in the hearts of people around the world. Italian jewelry follows in the same shoes with pieces that are finely crafted of the most luxurious materials. Men's Italian jewelry is certainly no exception; fine men's jewelry incorporating excellent Italian craftsmanship and materials makes a luxurious addition to any jewelry collection. Men's Italian jewelry will quickly add a bit of opulence to any ensemble. Use our tips to choose Italian jewelry for yourself or for someone you care about.
All about Men's Italian Jewelry:

Brands: Many pieces of Italian jewelry incorporate famous Italian brands. Italian autos are incredibly famous and lavish, but they are out of reach for many men on a budget. Men's jewelry featuring Italian auto logos is a great way to indulge in the fantasy of these fabulous cars. Some pieces of Italian jewelry simply market the country of Italy itself. If you have Italian heritage or affinity, consider a red, white and green striped bracelet, ring or pendant.

Materials: Italians are known for producing high-quality products, and their men's jewelry selections are the perfect example. Fine sterling silver, gold and stainless steel are common materials for Italian jewelry. Italian leather is famous around the world for its high quality. Italian leather bracelets, necklaces and watchbands will add style to your wardrobe for decades.

Styles: There are many signature styles in Italian jewelry. The Italian horn, also called a Cornicello, is a famous Italian symbol that is fabled to protect against the evil eye. The Cornicello is an ancient emblem that has roots in Paganism. Italian link chains are also distinct; some famous Italian link chains include the Franco, which is an intricate rope chain, and the Marina, which incorporates large oval links. Both of these Italian chains can be worn on their own or with pendants.

Charms: Italian charm bracelets are not like the feminine, dangling charm bracelets you might be familiar with. Italian charms are connected like links to form one continuous piece of jewelry. Italian charms are available in a myriad of styles and designs. You can create your own bracelet by using Italian charms to spell out the name of someone you love, write out your favorite phrase or make a unique pattern.

Buy Men's Jewelry
Back to Guides Directory